I have finished my Mini I Spy quilts and love them. I love that these quilts are easy for my kids to hold and carry around. My daughter has been sleeping with hers, she loves all the girly fabric. (This is a mini version of this I Spy Quilt.)
Each quilt has 30 squares of fabric, 2 of each kind for matching. Each square is 4×4 inches once sewn, (I used a 1/4 inch seam allowance, so I had 4 1/2 inch squares to start.) Some of the fabric is flannel and some cotton, either is fine for me.
For the back, I used a fun flannel animal pattern. It came in purple for my girl quilt and green for my boy quilt. We use the back side for even more I Spy fun searching for certain animals too.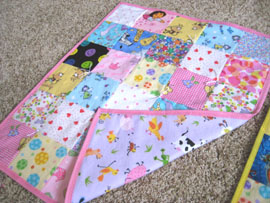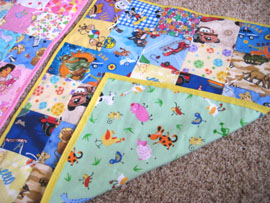 The batting is a thin cotton batting. Then I pinned all three parts together laying it on the floor, it's small and wasn't not hard to do. Then I tied it together with Embroidery floss doubled up. For the binding, I used Double Bias tape and sewed around the whole thing with a zigzag stitch from my machine.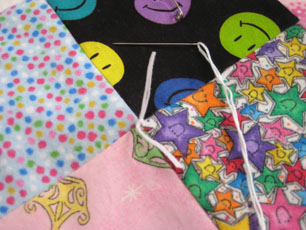 These were super easy and fun. If you come across fabric on sale (I collect this kind of stuff all the time) or just happen to have some fun fabric laying around, I highly suggest making one of these for a child!