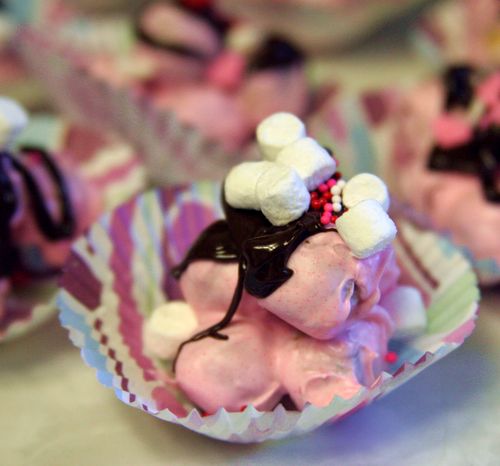 If your kids like miniature stuff as much as I do, uh mine do, they'll love these mini ice cream sundae candies. They'd be a fun ending to a miniature food meal (make mini hamburgers, serve mini corns, and drinks in tiny plastic shot glasses or Dixie cups). Or just serve the mini ice cream candies as a fun treat – any occasion will do!
Decorating these is the fun part, and kids of all ages can get in on the action! Let your toddler help with sprinkles, or older kids help with mixing, construction, and decorating.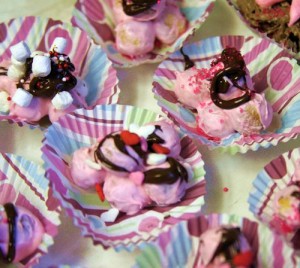 Ingredients:
2 cups round cereal (like Kix)
1 cup candy melts
Chocolate chips
Sprinkles
(Optional) Teeny marshmallows (I got mine in the coffee bar section at my local restaurant food supply store)
(Optional) Other must-have ice cream toppings (banana chips would be cute for a banana split-theme)
Supplies:
Mini cupcake liners
Small bowls
Spoons
To Make:
Microwave a cup of candy melts (or use white chocolate chips) according to package directions. I microwaved them in a bowl in 20 second bursts, stirring between each burst. Once melted, add gel food coloring and candy flavor oil, if desired. Don't use extracts for flavoring or liquid food colorings because they won't incorporate with the candy coating.
Mix round cereal into melted candy until covered. Spoon into mini cupcake liners (I turned my liners inside-out so the printed part would show around the candy.)
Melt chocolate chips for a topping and spoon on top, add sprinkles and any other decorations on top. Allow to cool and completely set before serving. (If using chocolate chips, you might want to pop everything in the fridge to help it cool and set).
Bonus Idea: You can also make yummy treats using coconut instead of cereal (really, you can use pretty much any ingredient with chocolate chips/candy melts and they'll be amazing). For Valentine's Day, I made X's and O's – they look great in a big group, or given in a gift box (heart-shaped or otherwise).

Heather Mann is a regular contributor at Make and Takes. She's is the mother of three boys, ages 3,  2, and baby. She publishes Dollar Store Crafts, a daily blog devoted to hip crafting at dollar store prices, CROQ Zine, a print magazine devoted to hip crafting, and also CraftFail, a community blog that encourages crafters to share their not-so-successful craft attempts.