We are smack dab in the middle of cold and flu season. Are you feeling it too?! I've been sick with a cough for a week now, as well as every other family in my neighborhood. I'm not sure if it's Seattle's extra cold weather or if we're all just coming out of the holidays and being with lots of family and friends. Either way, I've had it. I'm in total survival mode, and here's how I'm getting through it!
Thanks to our partner Braun and their ThermoScan® 5 Ear thermometer and No touch + forehead thermometer, we're getting through this a little easier. It's just what I've needed to get quick results and on our way to better health. It's just a quick and easy order over at Amazon.com.
My favorite thermometer is the Braun No touch + forehead thermometer! It's clinically proven to give precise and accurate readings with it's gentle forehead touch or No touch technology from up to 2 inches away, what?? One of the best features is it's silent mode, so you won't wake up a sleeping child, yay! And it's safe and hygienic – great for infants, children, and adults. Happily my temperature is at a cool 98.3, in the green zone. No fever, phew :)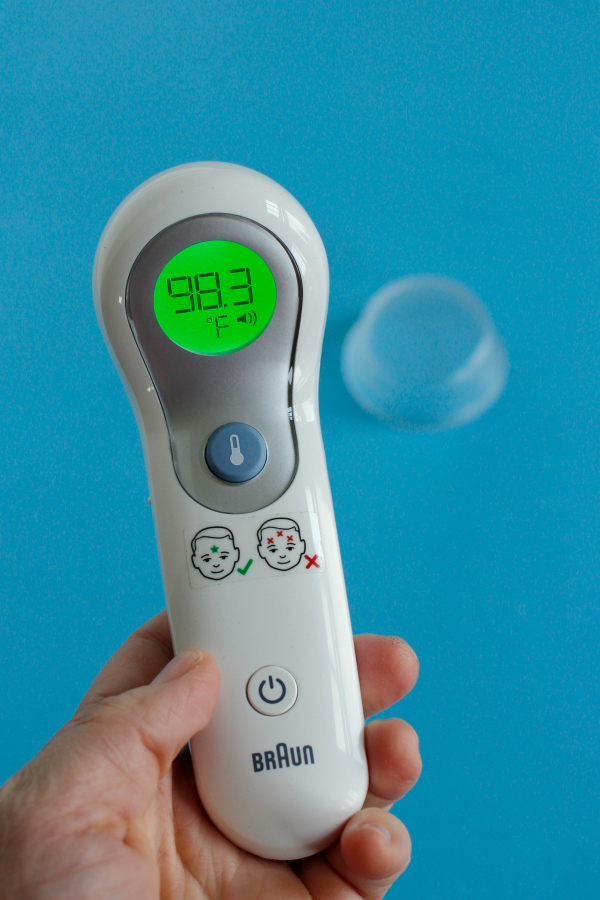 Just like Braun is saving me and all moms time to get back to life, here are 5 #MomHacks that might help you and your family as well!
5 Mom Hacks for Surviving Cold + Flu Season
1. Warm up with a heated rice bag. Make one, or 5, of these fabulous DIY heated rice bags. They are so simple to sew up and fill with rice. These can be heated up so quick and provide a little extra warmth and comfort to your sick ones.
2. Vitamin C it UP. Mix up a blend of fresh fruit to get all the vitamins you can drink up with our Agua Fresca recipes. Add in fresh oranges, which are happily in season, and you'll be all set.
3. Power packed green smoothies. Be sure to have your green smoothie ingredients on hand to whip up a nutrient power packed drink that kids will love!
4. Keep your thermometer on hand. Don't forget your Braun ddd thermometer beside. It will be a life saver when you're rushing to get your kids back to perfect health!
5. Ready the bubble bath. with coconut bath scrub to soothe your aches and pains. Or kids will love this homemade bubble bath that might entice them to get soaking those sick bones.
This is a sponsored conversation written by me on behalf of Braun. The opinions and text are all mine.