This is the beginning of my Green Thumb this year. I have never really gardened and every year I add a little more to my experience. We are planning on finishing a large garden in the corner of our yard in the next couple weeks, but I can't stand it, I needed to plant something now.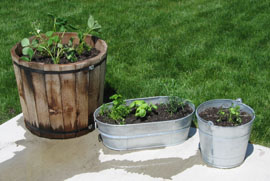 Last year, I found these fun silver tin buckets at Home Depot. I hammered holes in the bottom and they became pots. Then I found this great wood barrel bucket and I drilled holes into the bottom of that to make it a pot as well. My garden was herbs in the tins and tomatoes in the wood barrel. My barrel did not have enough room for the tomatoes. They died after giving me about 8 tomatoes because the roots had no more room to grow.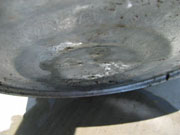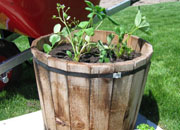 So this year, I planted herbs again in the tins. They were great last time and yummy in my recipes. It was so fun to need basil and go out to my planter and pick some to put fresh in my food. I planted, curled parsley, basil, and rosemary in the longer tin bucket, and cilantro for the small round tin bucket.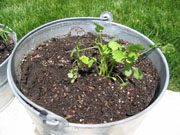 In the wood barrel planter, I planted strawberries. I have never planted them and I am excited to see if they flurish. My family loves strawberries, so it will be fun to pick them when we need a snack. But I am sure the Costco strawberries won't compare in size and taste, but those are not as much fun to eat.
I love gardening. When I am out in the dirt, I feel like a women of the 1800's. I am out there workin' my land!! Have fun planting, and I'll keep you updated on the harvest!