We're a big gardening family! I love it, and my kids love it! Plus, it's the perfect way to get outdoors and have a little fun together. I'm sharing 5 things you need to gather as you begin to garden with kids!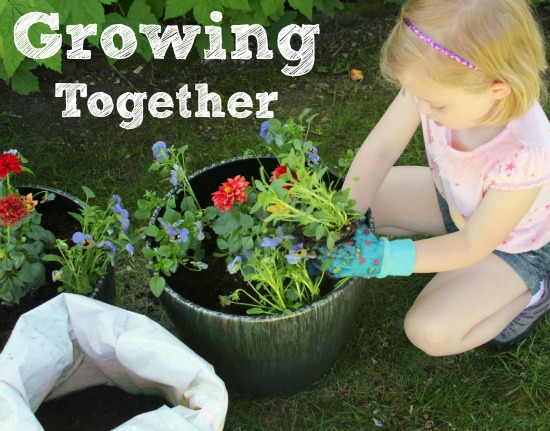 Planting and growing is one thing my kids love to do with me that doesn't feel like a chore. I don't know if it's the dirt they get to put their hands in or watching our vegetables grow, but it's something we all can do together.
I'm happy to partner with Miracle-Gro today, an M&T sponsor, to help you get inspired to "Gro" as well! If you visit their Gro Project facebook page, you'll see some perfect planting ideas for your home: Teyrarium, Ukulele Garden, Origami Planter.
5 Things You Need to Garden with Kids
There are all kinds of things to grow and garden with kids. Planting and growing a vegetable garden is our favorite. My kids love to watch the plants grow, as it seems they grow a few inches everyday. But since we've already planted our veggies for the season a month or so ago, today it's time to get a couple of flower pots ready to display on our deck.
For helping in the garden, here are a few tips I've come across as I garden with my kids:
1. Garden Supplies:
You'll want a pot – preferably something plastic for kids so it's light, potting soil, and your flowers. The outside of our house is green, so we chose some bright colors to accent our home for the planter. Dahlias, purple violas and yellow violas.
We chose the purple viola because they look like mini "pansies touched with yellow gold", a song my grandma sang to me and I sing to my girls! It's fun to plant something that has meaning for your family! It makes it all the more fun.
2. Good Gloves:
I've purchased all the wrong gloves in the past. I used to buy the basic brown gloves that were cheap, but they never fit and didn't last. I love a glove that has rubber material or grip to the inside, as it helps keep traction on tools and keeps away the prickly plants from pricking. Pictured below are both kid-size gloves. The blue ones are good for little ones to help water and plant flowers. But I love the rubber-ish green ones when my kids help with bigger yard work jobs like weeding or raking.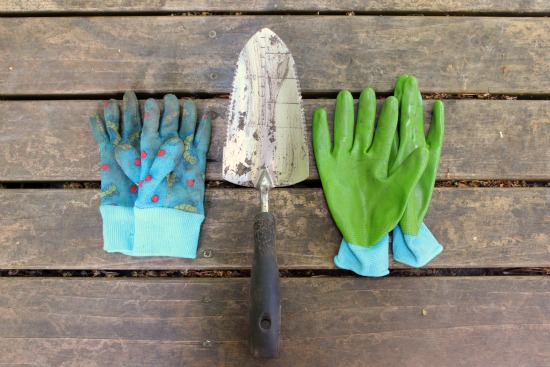 3. Sunscreen:
Those sweet little faces, shoulders, and arms definitely need protection from the sun. We keep our sunscreen right at the back door, making it easy to lotion up before we head out the door. It always helps prevent those sad little red sunburned cheeks and noses from appearing. And gardening might seem like a simple activity, but beware, the sun can get you from almost anywhere.
4. Chairs:
This is important, we all need to take breaks. It's a good idea to have a few chairs nearby, sometimes gardening can be hard work. Or maybe instead of a few helpers, you end up with "supervisors"! It's also good to have a garden kneeling pad as well, if you plan to stick yourself in one spot for a length of time.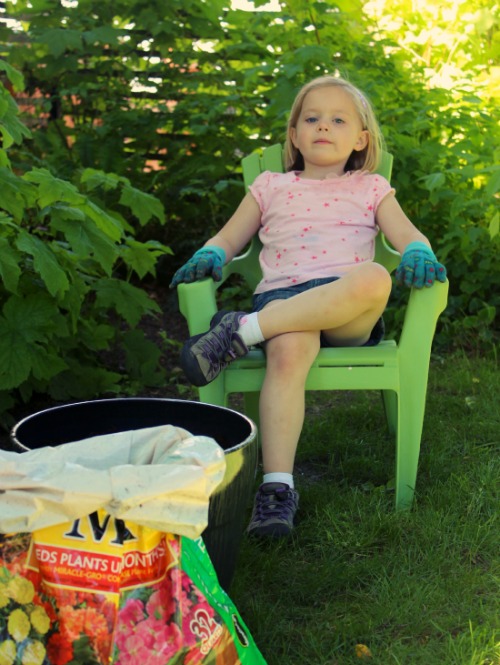 5. Watering Can:
My kids can't get enough of the watering can. We've now had to buy one for each, just little $1 size, so they each can have a turn. They divide up the vegetables and flowers in our garden, who can water the tomatoes or the carrots! Even if you have a watering system set up, it's still fun to have a watering can around for the kids to be a part of the watering process.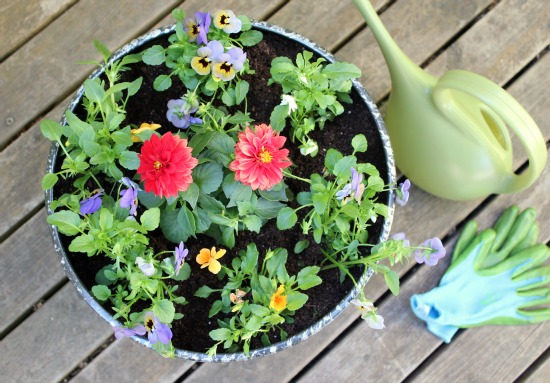 *Originally posted: 5/16/13