Make a batch of these no-bake biscoff cookies for a delicious cookie treat the whole family will love!
I love chocolate peanut butter no-bake cookies, but my husband is allergic to peanut butter so I usually end up eating the entire batch all by myself. Probably not the best idea, especially since swimsuit season is right around the corner. So instead of the making the traditional no-bake cookies, I replaced the peanut butter with Biscoff Spread.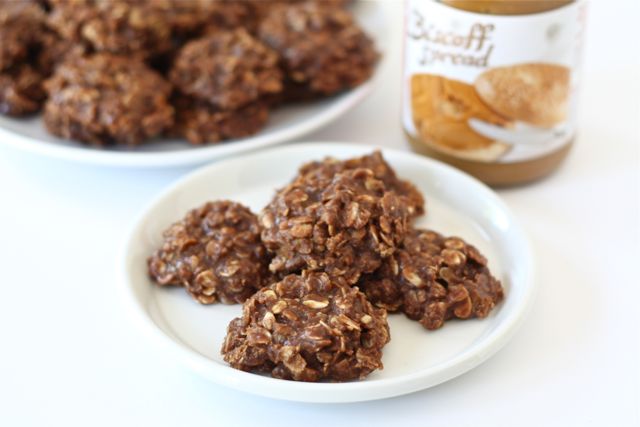 If you've flown on most airlines, you've probably had Biscoff Cookies. Well, the spread tastes just like the cookies, but in a creamy, peanut butter like form. Trust me, you need it in your life. So if you haven't tried it, go to the grocery store right now and grab a jar. Hint-look in the peanut butter aisle. It is amazing!
Before you eat the entire jar with a spoon, make these No-Bake Biscoff Cookies. They are simple to make-you don't even have to turn on the oven! And if you know someone with peanut allergies, make these cookies for them! They will really appreciate them, I know my husband did:)
A few of my other favorite Biscoff recipes:
See, I am obsessed with Biscoff Spread:) I am sure you will be too after you try it! Enjoy!
No-Bake Biscoff Cookies
Ingredients:
½ cup butter
2 cups granulated sugar
½ cup milk
4 tablespoons cocoa powder
½ cup Biscoff Spread
2 teaspoons vanilla extract
3 cups oats
Method:
1. Add the butter, sugar, milk, and cocoa powder to a medium saucepan. Bring to a rolling boil and let boil for 1 minute.
2. Remove from heat and stir in the Biscoff Spread and vanilla until smooth, then stir in the oats.
3. Drop by heaping tablespoons onto wax paper-lined baking sheets. Let the cookies cool until set.