One of my favorite desserts is a Banoffee Pie! In 1972, Ian Dowding and Nigel Mackenzie of The Hungry Monk Restaurant in East Sussex, England, created this Banoffee Pie and I can't get enough. (You can find their original recipe here on their website.)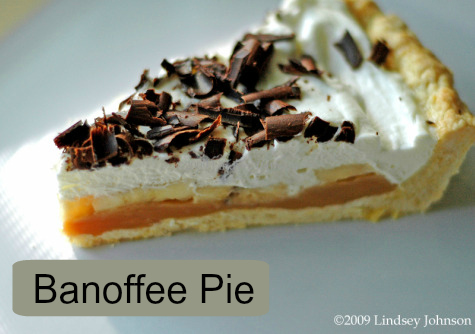 Most recipes from the UK use Digestive Biscuits or even better–Hobnobs, neither of which I have on hand.  Instead, I opt for using a pat-in-the-pan pastry crust. For Thanksgiving one year I used a graham cracker crust. Really, it doesn't matter. Whatever crust you use, it will be delicious. After all, it's the filling that really counts.  (In my humble opinion.)
Note:  You can see my step-by-step instructions for making dulce de leche here, or head over to see how David Lebovitz makes it the safer way.
Banoffee Pie
Ingredients:
For the dulce de leche:
1 (14 oz.) can sweetened condensed milk (you can double this amount for an extra rich and delicious pie)

For crust:
1 1/2 cups flour
1/3 cup sugar
1/4 tsp. salt
1 stick of butter
1 egg yolk
a little cream or milk–may need more or less depending on how the dough holds together.
1 egg white, beaten
For topping and assembly:
3 firm, ripe bananas, sliced
1 1/2 cups heavy cream
a little sugar
bittersweet chocolate curls
Method:
Place the can of milk in a large pan and cover it completely with water. Bring the water to a boil and reduce heat to a simmer. Cook the can, turning every so often, and adding more water to cover when needed, for 2 hours. After 2 hours, turn off the heat, let the can of milk cool in the water. When the can is cool enough to touch, remove it from the pan.
Note:  You can boil the cans for 3 hours if you would like a darker dulce de leche, but it will be quite a bit thicker when you spread it in the pie dish.
Meanwhile, make the crust:
Mix the flour, sugar, and salt together. Using your hands, a food processor, a pastry cutter, or two knives, work/cut the butter into the dry ingredients. The mixture should look like cornmeal with a few larger lumps of butter.
Break up the egg yolk with a fork and add to the flour/butter mixture. Stir with the fork until the dough comes together in a ball. You may need to add a little cream at this point if it's too dry.
Don't overwork the dough or it will become tough. Cover the bowl and place it in the fridge to chill for about 20 minutes.
Pat the crust into a 9″ or 10″ pie or tart plate. Prick all over with a fork and chill for an additional 20 to 30 minutes.
Preheat oven to 400 degrees F.  Bake the crust for 15 minutes, or until it starts to become lightly golden. Remove from oven and brush the inside with some of the beaten egg white. Return to the oven and finish baking until crust is golden.
Let the crust cool. Spread the dulce de leche on the bottom of the crust. Top with the sliced bananas. Push them down a bit.
Beat the heavy cream and sugar with an electric beater until stiff peaks form. Spread over the banana layer. Top with the chocolate curls. Chill until ready to serve.