Guest Post by Kate of Nearly Crafty
At our house, Thanksgiving is all about the family and the food. We spend 2 days cooking, and about 1,000 hours chatting and chasing kids. That busy schedule does not leave a lot of time for us to create a magazine-cover-worthy table setting. All thoughts of fine china and beautiful bouquets fly out the window when you catch your toddler wrist deep in a vat of creamed spinach. Not that I know that from experience or anything!
This Thanksgiving, I promised myself I would do something simple to make our table look a little more special than it does on any other Thursday. I wanted to create little turkeys for each place setting, but all the examples I found online were made of cookies, candy, and chocolate. I don't know about you, but I can't feed that stuff to my kids and then expect them to sit in their chairs for a meal. Their heads would start spinning around like Linda Blair. So, I made these Orange Turkey Thanksgiving Table Favors out of healthy foods we have on hand all the time.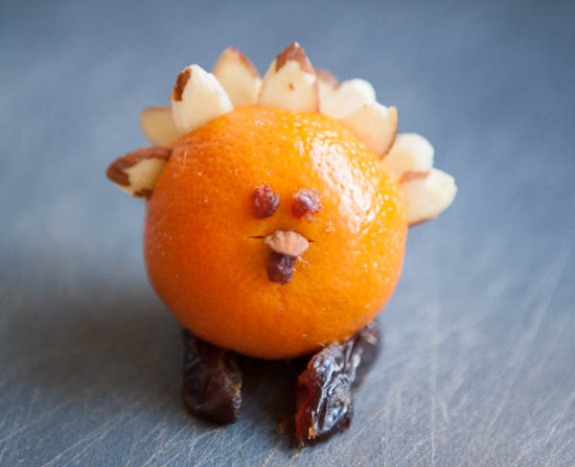 Supplies for Orange Turkey Table Favors:
clementine oranges
sliced almonds
dates
1. Cut a small slit in the widest part of your clementine.
2. Slide a piece of sliced almond into the slit.
3. Make another slit next to the first and slide in a second piece of almond.
4. Repeat steps 1 and 2 until you have 5 pieces of almond sticking out of the clementine.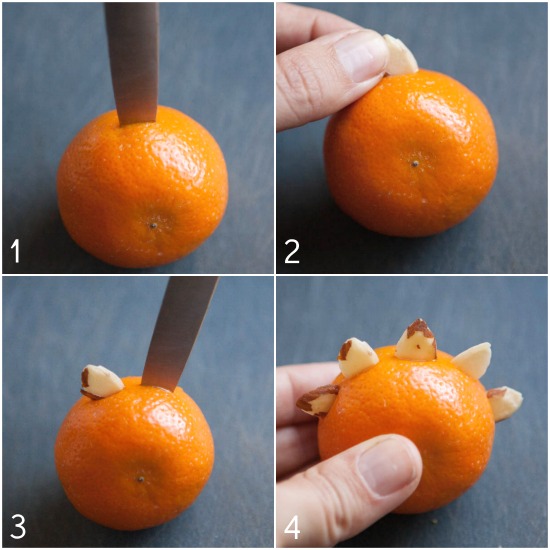 5. Create a second row of slits/almonds behind your first row. Make sure the slits are staggered between rows. This row will only have 4 pieces of almond in it.
6. Create a third row of 5 slits/almonds behind the second row.
7. Make a slit in the middle of the "face" of your clementine turkey.
8. Slide a small slice of almond in the slit.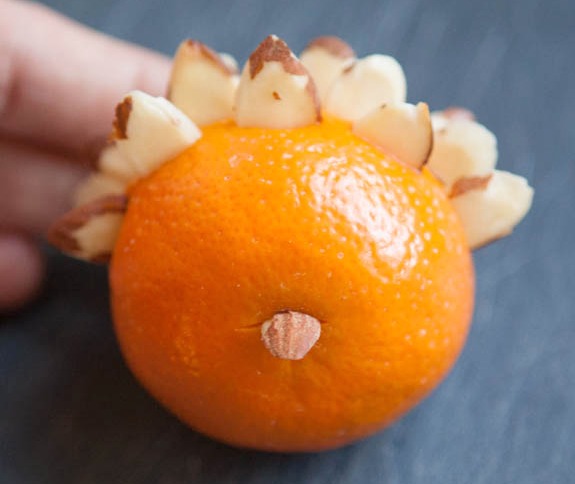 9. Take small pieces of date and create two eyes and a wattle. (Who named a creepy skin flap a wattle, btw? Some marketing genius, that is who.)
10. Cut two long pieces out of the rest of the date and place them flat on your plate to create turkey feet.
11. Rest the clementine turkey on top.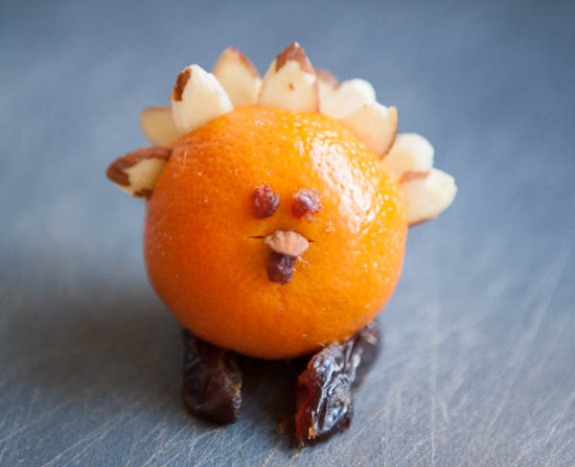 Have fun with Turkeys this Thanksgiving! Gobble Gobble –)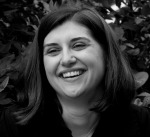 Kate lives in Seattle with her husband, two children, and two dogs. In a past life she was a prosecuting attorney, but now her idea of a hard cross examination is trying to figure out how exactly all the doll heads ended up in the air vent. She enjoys baking, smelling sleeping babies, and shoes. She really, really likes shoes. Check out her crafting blog, NEARLY CRAFTY, for all sorts of projects and failures.