Last weekend I was invited by Santa Catalina Island Company to travel with my family to Catalina Island, having some fun in the sun and discovering this unique vacation spot. It's so close by, just a ferry boat away off the coast of Long Beach, California.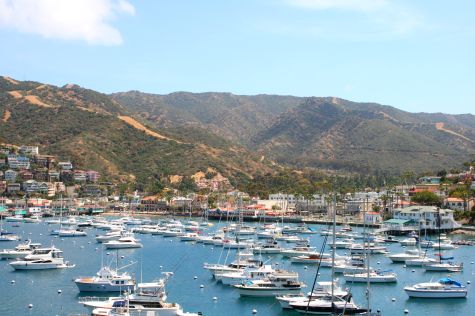 We started by boarding the Catalina Express, "a real live boat" as my daughter said! That was the first highlight of the trip. But just to warn you that if you're the seasick type, you may want to go up front to look out at the horizon, right Jordan?!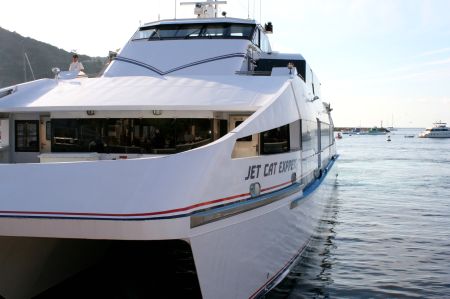 Then coming off the boat and walking up to the main streets of Avalon to our Hotel Atwater, I felt the rush and excitement of being on an island. There's quaint shops, boats docked, and a very relaxed feeling. And I'm pretty sure this island didn't have any "others", or at least that I know of!
There's great places to eat, all types of cuisine to choose from. We enjoyed yummy food and a live band at the Lobster Trap, ate the best french fries at Coney Island West (I might go back just for those), and the super delicious, gain 20 pounds, carnitas nachos from the Casino Dock Cafe.
We were able to take some guided tours around the island, seeing the sites and learning more about the history of Catalina. Mr. William Wrigley Jr. (yes from the gum) purchased the island company and made it into what it is today. The Chicago Cubs used to come there and hold their spring training each year. We also learned that the Casino in town is not actually a real gambling casino. It was built as a gathering place, the Italian meaning of the word "casino". It has a theater where they used to show silent movies with someone playing a live organ, and it's still there, so fun to listen to. And the ballroom upstairs has hosted many "big bands" from back in the day.
We also visited the city of Two Harbors. It's on the other side of the island, a fabulous place to visit with a beautiful beach. We kayaked with the kids and Jordan even braved snorkeling. I loved just looking out from the beach with the view of the boats that are docked.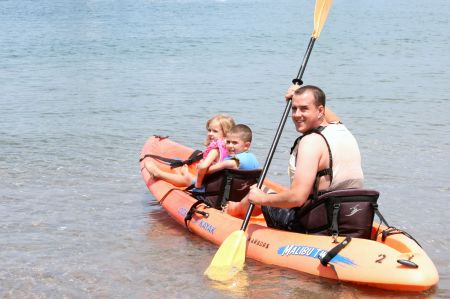 Of course the kids loved the beach. My baby was all over in the sand. Even snacking on some, mixed in with her cheerios and dining on rocks! Gotta love it.
But my kids will tell you that their favorite part of the whole weekend was the Flying Fish boat trip. The Flying Fish are real, not kidding. Those fish were flying, it was amazing. We went out at night and the guide shines a bright light on the ocean. The fish get scared when they hear our boat coming and try to "fly" away. One actually flew up so high that it hit a lady's shoulder. Another hit the side of the boat. We were all screaming with excitement. Soooo fun! We also got to take the Underwater sea tour, which was just as exciting. It's like a real life Disneyland "Nemo" ride, seeing all the fish up close in an underwater submarine.
Here's the blogging babes I got to hang out with, Allison and Ciaran. Their families were so fun to be with, everyone getting along. Here we are at Descanso Beach where we got to BBQ Under the Stars, right on the beach.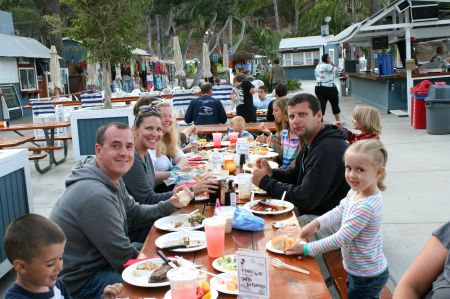 Then one of the best parts of the whole weekend was getting a relaxing massage. This mama didn't know how much she needed it! Deanna from Deanna Stone Bodyworks literally worked my body over. She's trained in Lomi Lomi bodywork, healing my body and soul! She starts with the head, then works her way around. I'm not kidding, I will be back just for her! Thank you, Deanna.
We had such a great family getaway. Jordan and I are planning our next trip to Catalina when just the two of us can go! Thanks to Santa Catalina Island Company for inviting us to come. For more information or to book your family getaway, Visit Catalina Island website or to call 1-800-626-1496.
Have any of you already been to Catalina? What was your favorite thing to do there?