My girls love to help prepare meals for the family. From mixing batter to tearing lettuce to scrambling eggs, they are always eager to learn a new skill or master a new recipe. We have a number of kids' cookbooks, but our favorite by far is the adorable (and delicious) Honest Pretzels by Mollie Katzen. This is the book the girls look through if they want to cook something for the family, with only a little bit of adult help.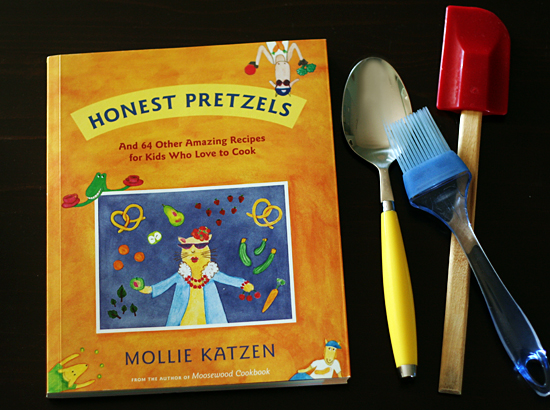 The recipes in Honest Pretzels are kid-friendly, both in taste and preparation. Geared towards ages 8 and up, most recipes require just a little adult assistance, usually with the oven or stove top. There are more than 60 recipes for breakfast, lunch, dinner, dessert, and snack time. All the recipes are vegetarian, too. So far, the recipes we have tried have all been successful and yummy.
The format is really what makes this book a winner in our house. My girls love the picture and word step-by-step instructions – they feel like confident cooks when they use this cookbook!
The Grilled Broccoli & Cheese Sandwich is a lunchtime favorite around here, and my 10-year-old loves to whip-up the Made-in-the-Pan Chocolate Cake for special occasions, big and small. My girls recently marked a bunch of pages with sticky notes – looks like Spaghetti Pie, Apple Pockets, and Purple Passion Power Shakes are in the works for a future cooking session!
You can visit Mollie Katzen's website for a few sample recipes from Honest Pretzels – Guacamole and Not-from-a-Box Macaroni and Cheese – plus the Number Salad recipe from one of her preschool cookbooks, Pretend Soup.
Mollie's cookbooks are the best kid-friendly cookbooks I've seen, and we love to give them as gifts with a colorful spatula or apron. I highly recommend you check your library or local bookstore for Honest Pretzels and get cooking!
Does your family have a favorite kids' cookbook?