If one of your new year's resolutions was to start meal planning then we are here to help. We are showing you a delicious and easy slow cooker dish, shredded chicken recipe. We'll also show you ways to use it for meal planning.
How to cook shredded chicken
Print our recipe below to keep on hand whenever you need to make shredded chicken for meal planning.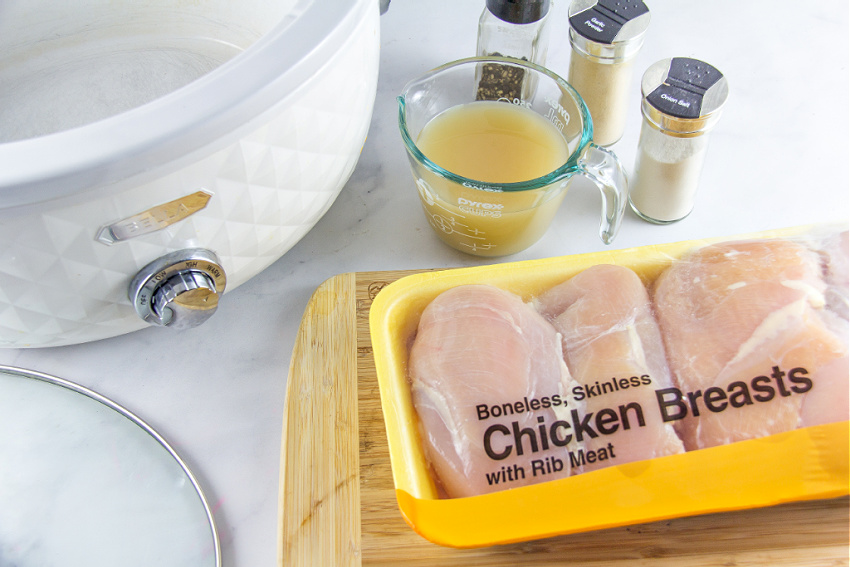 The best way to cook chicken for shredding is in the slow cooker. Follow my simple tips:
Use as many chicken breasts as you can fit in the bottom of your slow cooker in a single layer. So, if you have a smaller slow cooker you might only be able to fit 3. If the chicken breasts are smaller and you have a larger slow cooker, you might be able to add 5.
Cook it low and slow for at least 6 hours. Use two forks to see if it easily pulls apart. If it doesn't, continue cooking for another hour. It won't take longer than 8 hours; ours is almost always done in 6.
Don't use too many seasonings. I don't add herbs to my slow cooker chicken because we use it in a variety of dishes, with each having its own blend of herbs and spices. For my shredded chicken recipe, I use low-sodium chicken broth, onion salt, garlic powder, and black pepper.
Pull chicken out of the slow cooker one piece at a time to shred. This keeps the other pieces warm so they don't dry out too quickly as they cool on the counter. I also prefer to remove it from the slow cooker for shredding to separate it from some of the fat that remains in the liquid.
How to store shredded chicken
You can store shredded chicken in airtight containers or bags in the refrigerator for 3-4 days. You can also store it in individual servings in the freezer.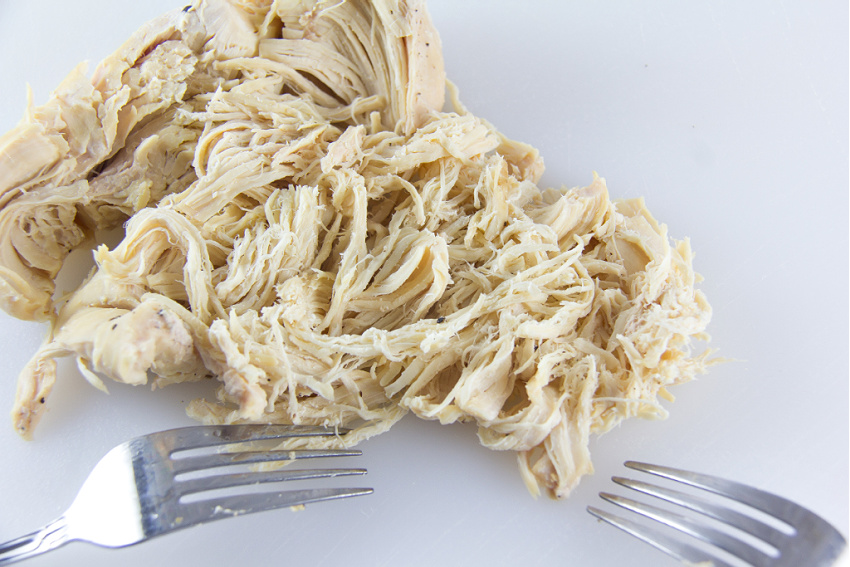 Tip: Add a small amount of the liquid from the slow cooker to the storage container (or bag) because it will stop the chicken from drying out.
Ways you can use shredded chicken
I make shredded chicken often and we use it in a variety of dishes including:
Chicken salad for sandwiches
Homemade empanadas
Chicken noodle soup or chicken and dumplings
Quesadillas
Here are some more delicious recipes that you can use shredded chicken in:
Please Pin Post For Later:

Slow Cooker Shredded Chicken
A slow cooker shredded chicken recipe to use when meal planning.
Keyword:
meal planning, shredded chicken, slow cooker chicken
Ingredients
4

chicken breasts

3/4

cup

low-sodium chicken broth

3/4

tsp

garlic powder

3/4

tsp

onion salt

1

pinch

black pepper
Instructions
Place chicken breasts in a single layer in the bottom of the slow cooker.

Add seasonings and chicken broth to the slow cooker.

Cook on low for 6-8 hours.