I've made it a new goal to get back in the kitchen and cook at home as much as possible. But in order to get in the habit of cooking dinner (I've been bad), I really need a weekly plan. I'm happy to have partnered with Staples and their new Arc Quilted Notebook and Avant Pen, helping me put my meal planning to work!
I like to plan for the week, that way I can buy my ingredients a week at a time and nothing goes bad. I've found I like to write down the dates of my week and list out 5 meals I can make. For the other 2 days of the week, I leave them open for either eating out or left overs, we always have a whole meal of left overs. For these meals, I don't give them specific days of the week. It gives me a little bit of freedom and flexibility not to have to plan each day, just the whole week.
For my notebook as I plan, I added a little stripe of washi tape, just to jazz it up. I got this idea from the lovely Jenny of Jenny on the Spot. We recently traveled together and she had a whole bag of washi tape with her as she journaled. I think it's such a great idea. She is one to make things sparkle! Thanks, Jenny!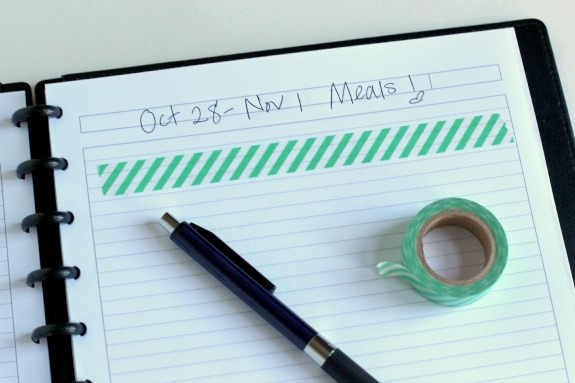 I pulled all my cookbooks out of the back cupboard and scoured through them. I forget what great recipes are in these hands-on resources!
I mark them up with sticky notes and then right them down in my notebook for the week.
There are also a lot of great websites sharing their weekly meals as well. My good friend Jane of This Week for Dinner is a fabulous resource. She posts her weekly meals and there are always great comments with other readers sharing their meals.
For a little added bonus, to help you get a little more organized for your weekly mean planning, Staples is giving one winner their own Arc Notebook and Avant Pen set, woot! Follow the giveaway guidelines below to enter:
*This post was sponsored by Staples Quilted Arc Notebook and Avant Retractable Pens. Meal planning and ideas are my own. Find Staples on Facebook and Twitter for more information!