We recently had a day out with the family skiing up at Park City Mountain Resort. It was a blast! Jordan and I went skiing all day, while our two oldest kids took "first timer" ski lessons from the Resort's amazing instructors!
I've been lucky to live in Utah near so many great ski resorts, and Park City is one of the best. They have fabulous skiing in the winter and fun biking and hiking in the summer. They even have a great blog with ideas on how to get the whole family out playing in the fun called, Snow Mamas.
Here's my son skiing down the hill with his class. His Signature 5 class got to be out on the mountain all day, with lunch in between. With one instructor and just three kids, he received plenty of attention and had some great ski time and is now hooked. He's been coming up with ways to earn money to pay for his own skis!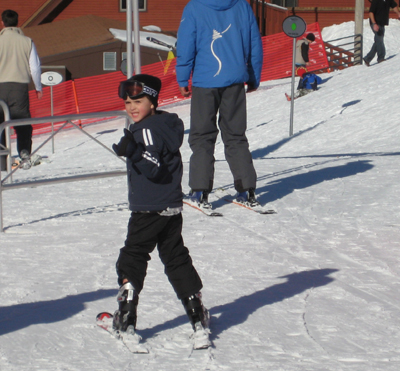 Here's my daughter on the "magic carpet" with her teeny tiny cutest ever skis and boots. In the Signature 3 program, they ski 2 times for 75 minutes each, with lunch and inside play time in between. Her instructors were great helping her learn to use her wedge.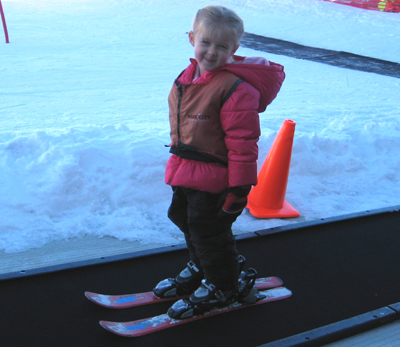 Then while the kids were having fun on their own, Jordan and I were able to hit the slopes too. It was amazing. The resort is huge with so many lifts and runs. The staff was so helpful and friendly. Mountain hosts were at the top of every run to director us on where to go. Unfortunately I couldn't last the whole day. It's a reminder for me to get in better shape.
And after our fun day on the mountain, we were able to go on their Alpine Roller Coaster. You'd think you could only ride this in the summer, but no, we had a blast going fast in the freezing cold!
All in all, it was a great experience that everyone in the family enjoyed. It's something we'll definitely be doing again. Thanks to PCMR, we were given a fun family day we'll never forget!
---
This Giveaway is now Closed
Park City Mountain Resort Giveaway
Now I'm excited to tell you that Park City Mountain Resort is happily giving away 2 lift tickets for this season of skiing. So if you're a local or if you're coming to town, here's your chance to ski for free.
Giveaway Entries: For your chance to win 2 free lift tickets to Park City Ski Resort, leave a comment on this post by Thursday, February 26th @ midnight. I'll announce the snowy winner chosen from random on Friday morning February 27th.