I'm a big proponent of getting kids outside to play. And messy play is more than okay with me too, just as long as it can be cleaned up which is why we love getting outdoors especially with Spray Chalk. The possibilities are endless, it's easy to clean up, and the kids can start with a blank canvas again.
Make Flowers With Spray Chalk
Whether the kids just head outdoors with a few cans of Testors Spray Chalk to get creative, or they make stencils first to create fabulous outdoor art, there is hours of fun to be had outside this season. I'm going to show you just how easy it is to create stencils to take outdoors to make these flowers.
Supplies:
Cardboard box
Box cutter
Marker
Instructions:
Using the marker, sketch a flower and leaves onto an old cardboard box, and then cut them out using the box cutter.
Note: the reason I use a cardboard box is that it's heavy, if you use paper, the wind could pick it up outdoors and your creation could get a little messy.
Now head outdoors with your cans of Testors Spray Chalk and have some fun.
Shake your can before you start spraying, then place your cardboard stencil on the concrete or grass and hold the can about half a foot above the area you want to spray. You'll notice the closer you get the thicker the spray. It will all dry and look just like chalk, but the thicker the spray the longer it will take.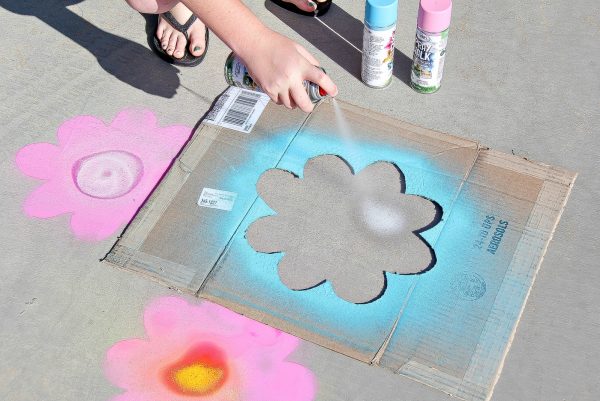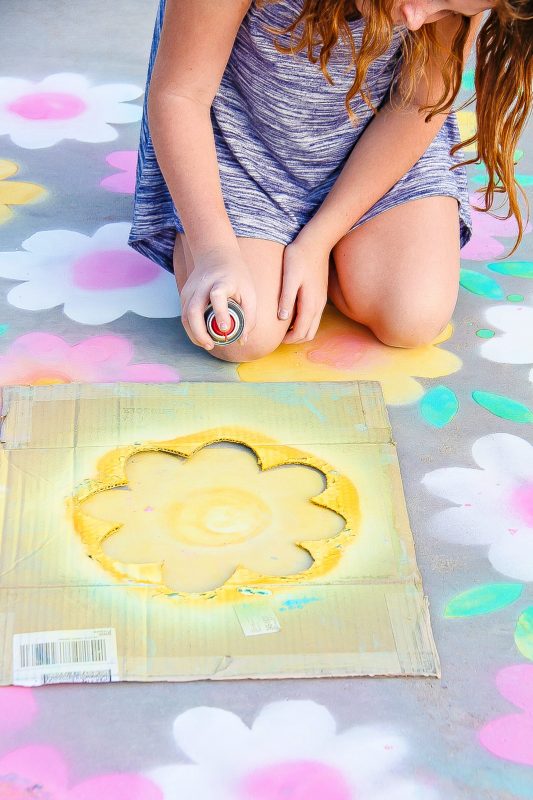 Here's a neat trick. If you want to make other colors such as orange or green, spray the colors over the top of each other, so for example, spraying yellow over the blue before it dries will create green, and yellow over pink will make orange. Experiment with your own color combinations.
It almost looks a little like watercolor when you spray the colors over each other. It gives the spray chalk another element that regular sidewalk chalk just can't match.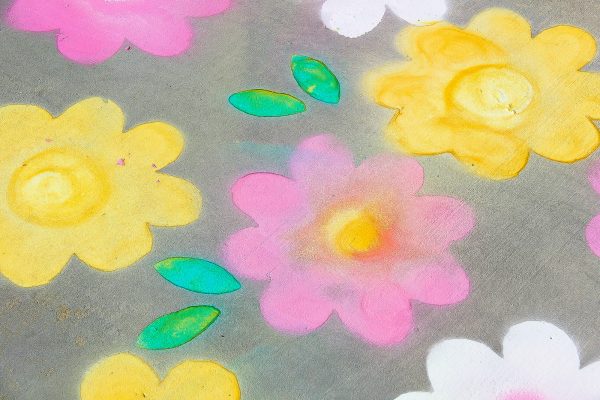 Testors Spray Chalk is perfect for kids activities, as well as kids and adults parties. It's the only aerosol street chalk product available, is non-toxic, and goes where regular sidewalk chalk can't such as grass, snow, sand, vinyl siding, and glass. But don't worry, it's not permanent, it fades to white in 7 days and washes away with rain or water.
Watch the video for more ideas:
Testors Spray Chalk is available at these locations:
Wal-Mart (ASOTV)
Michael's inline
Menards
Target
Home Depot (craft bay)
*Thanks to Testors for sponsoring this post. Be sure to visit them on facebook, pinterest, twitter and YouTube for more inspiration. Testors products are available nationwide at all Michael's Craft Stores as well!