Does your family have a camping trip planned this summer? Then you're going to want to plan on this super simple activity for the kids – make a Giant Yarn Spider Web! It's one of our favorites to create and so easy to set up. Plus, it lasts the whole weekend of camping!
And the best part is that the set up is half the fun! The kids can pretty much do it all on their own and then get ready to play pretend!
Make a Giant Yarn Spider Web
All you need is a ball of yarn! Nothing fancy needed. But I do love the variegated color yarn, making it easy to have fun rainbow colors with one ball of yarn.
Giant Yarn Spider Web in the Woods
Supplies:
Yarn – just get the cheapest ball of yarn you can find, or even left over pieces work great.
Trees – find a patch of trees that are at least a few feet apart
Instructions:
Find a good section of camping area where there are 5-7 trees grouped together. Make a loop with yarn around one tree trunk and tie a knot.
Roll out your yarn and keep looping around nearby trees. Make a lot of criss-crosses around the trees.
Once it's full and looped around all your trees, tie it off and cut the end.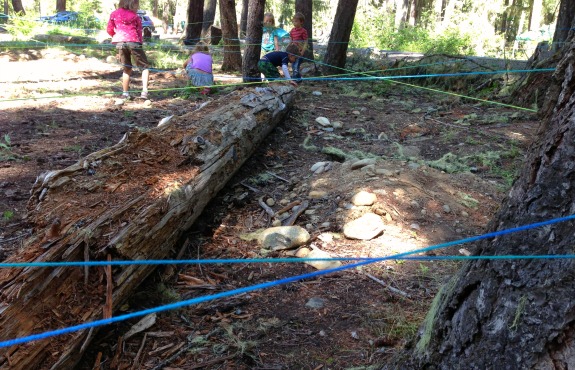 Now it's ready for play time. There are a few different games to play: don't touch the yarn, tag, and spiders vs. flies! You could even craft up a few pom-pom spiders to take with you for a little spider web fun!
When your camping trip is over, simple cut off one end and wind it back up. Keep your yarn ball with your camping gear and it's ready to use again next time! Our camping spot was a hit at the campground!
Tip: You can set up your hammock right next to the web so those spiders can rest between creeping and crawling while they play!
More Outdoor Fun for Kids:
Try playing Glow Stick Tic Tac Toe, great for nighttime or inside the tent!
Make Camper's Turkey Chili the next time you camp with your family!
Have fun camping with kids! 
*Originally posted 6/28/14