These paper scrap fall trees are the perfect craft for the autumn season. Hang up your cute paper scrap tree artwork to get you in the mood for fall!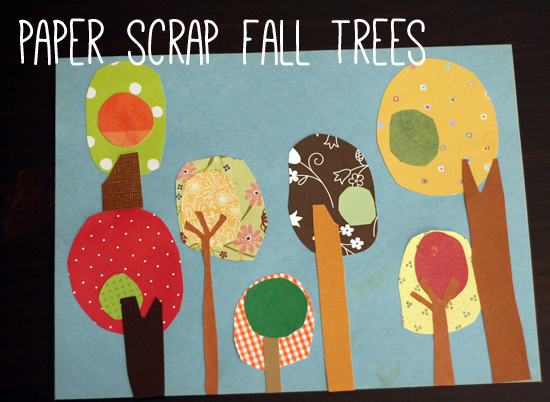 We're just starting to see some fall colors in our neighborhood, which makes me so happy. I love fall! Even though we're still a few days away from the official first day of autumn, my kids and I were ready to start some fall crafting projects. We kicked things off with these whimsical paper tree collages, made with colorful scraps from our paper bin.
Artistic Paper Scrap Fall Trees
Supplies:
paper scraps in fall colors
scissors
glue
large construction paper for the backing
Instructions:
The first thing to do is gather a big pile of fall-colored paper scraps. We grabbed solids and prints in red, orange, yellow, green, and brown. If you don't have a giant bin of paper scraps at home like we do, you could use construction paper and magazine pages for your trees.
Now it's time to start cutting! Cut both large and small round shapes – circles, ovals, eggs, any kind of roundish-shape works! These don't need to be perfect at all – the more variation the better.
As a bonus, this is great scissor practice for the kiddos. If they don't already know this, show them how to turn the paper as they cut, rather than trying to turn their hands in weird directions.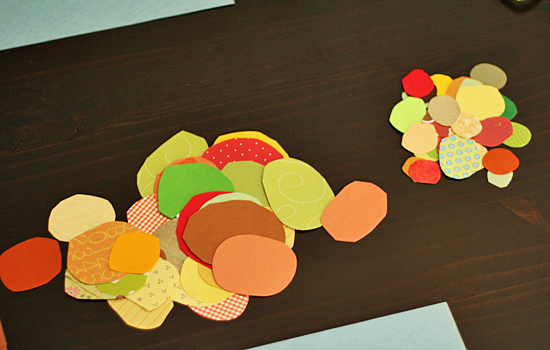 Choose a piece of paper for your background. Arrange and glue a large circle on the paper, then add a small circle on top. The small circle could be centered, off to one side, or wherever you think it looks good. My girls really enjoyed choosing which patterns and solids to pair together for their trees.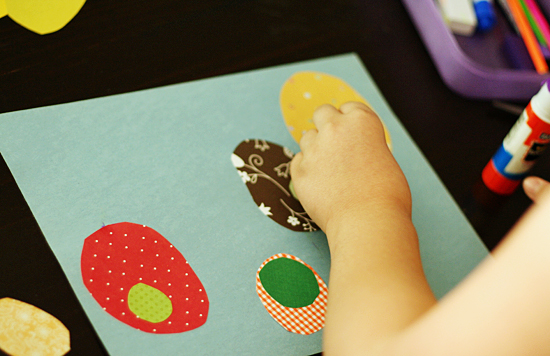 When you have enough trees, it's time to add some tree trunks. Cut and glue trunks from brown paper. Most of our trunks were simple rectangles with a V-shape cut from the top for branches. If your little ones don't have the patience for trunk-cutting, draw trunks with brown marker, crayon, or pastel.
A pair of paper trees also makes a cute card for fall birthdays!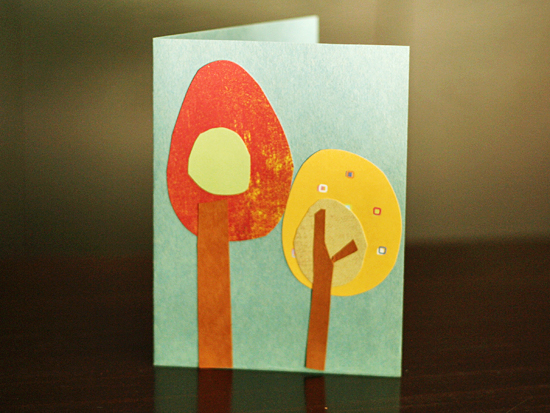 If you like, add further details to your tree collage with crayons. And then you're done! Happy creating!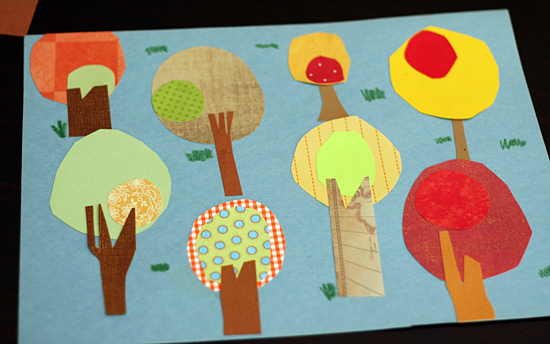 *Originally posted 9/16/13