This week for Storytime with Make and Takes, we read Planting a Rainbow by Lois Ehlert. With Spring planting upon us, I couldn't resist choosing this fun and colorful story. This book talks about all the colors of the rainbow and where we see them. There's a rainbow of colors we see in the garden with lots of colorful flowers to plant and vegetables to eat.
To celebrate this book, we chose to plant a rainbow of flowers in our own garden. We went to the local garden nursery and searched for red, orange, yellow, green, blue, and purple flowers. My kids loved helping find the colorful flowers. Blue and green were a little bit harder to find. For blue, we found a large perennial plant called Lithidora. For green, I decided to plant the herb Parsley. I don't really know of any plants that have green flowers, do you? You could also use a pretty grass plant.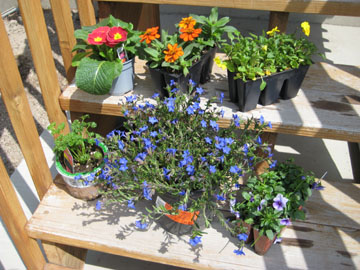 I almost planted this rainbow in little individual pots for each color and was going to have them coming down our steps. But I found we had just enough space in our little patch of dirt by the house. We got out the garden gloves and planted the rainbow right in a row. I didn't plant all of the flowers that came in the pack. I saved some for a large planter we have by the deck. We are now ready to water and watch our rainbow grow.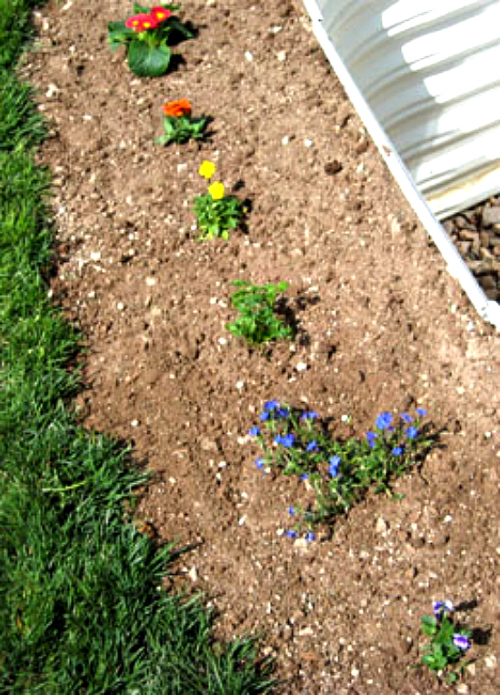 Another part of this fun book talked about planting a rainbow of vegetables. You could easily find colorful veggies to plant in a row. You could do tomatoes, carrots, yellow peppers or tomatoes, broccoli or cucumbers, blue potatoes, purple/red onion or eggplant. The book gives lots of suggestions for different plants and vegetables to use.
Have fun reading and planting you own rainbow garden! I'll be sure to post again when our rainbow is in full bloom.