Strawberry Rhubarb Pie is a perfect combination for a delicious dessert, a little tart and very sweet. And with rhubarb in season, this recipe is just begging to be made for spring, right around Mother's day!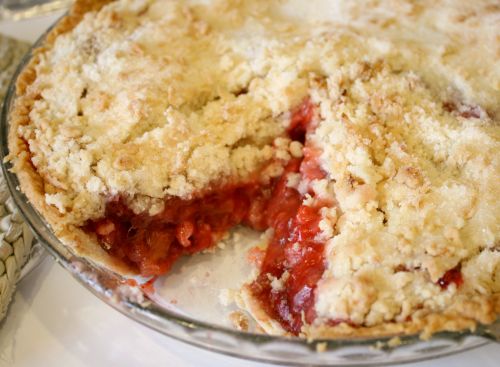 Strawberry Rhubarb Pie
I've shared my Mom's delicious Strawberry Rhubarb Crumb Cake before, so I tried making a pie this time, perfect for a Mother's Day dessert.
Recipe:
2 cups cut up rhubarb
2 cups cut up strawberries
1/3 cup cornstarch
1 cup sugar
2 T lemon juice
Topping: 3/4 c. sugar, 1/2 cup flour, 1/4 cup butter
pie crust – store bought is fine, but I like to make Martha Stewart's Pie Crust
Method:
On low heat, cook fruit covered about 5 min. Add lemon juice. Combine 1 cup sugar and 1/3 cup cornstarch. Add to rhubarb mixture. Cook and stir 4 – 5 min. until thickened and bubbly. Cool.
Prepare your pie crust and pour in the filling. Make your topping in a separate bowl of sugar, flour and butter. Sprinkle it on top of the filling.
Bake in a pre-heated oven at 400 for 25-30 minutes. If you feel it needs more time, reduce the heat to 350 for another 10-15 minutes. You want the sugar to have melted with the butter for a brown and crusty topping.
This is one of our favorite recipes to make in the spring, right around Mother's day! It's the perfect dessert for something fresh, especially if you head to your garden or to the farmer's market for ingredients. We just picked up some rhubarb from the farmer's market last week. I'll be making this on Saturday for a yummy dinner Sunday!
More recipes for pie:
No-Bake French Silk Pie – make this delicious dessert for a special day, it's oh' so decadent!
Apple Pie Tortillas – these are super simple to make, the kids love to help with these in the kitchen.
31 Pie Recipes to Celebrate National Pi Day – all the pie you could ever want! Make one every day of the month!