I go pumpkin crazy every fall. I can't help myself. There are so many fantastic pumpkin recipes to fit in. My new favorite pumpkin cookies are Pumpkin Oatmeal Scotchies.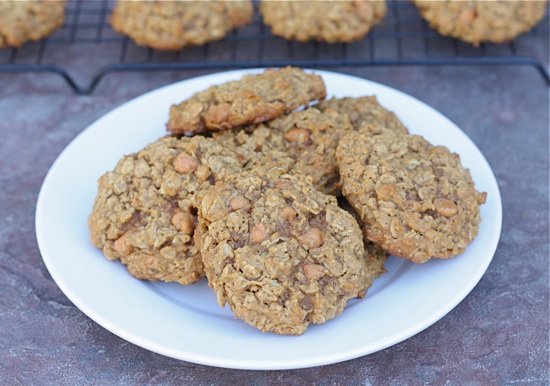 These pumpkin cookies are moist, loaded with spices, oats, and butterscotch chips. If you haven't experienced pumpkin and butterscotch together-you are in for a real treat. They are a match made in heaven! These pumpkin oatmeal scotchies are the perfect fall cookie. Make a batch today!
If you share my pumpkin obsession, here are a few more pumpkin recipes you might enjoy: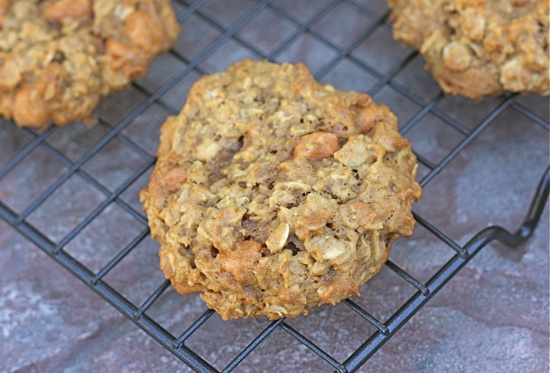 Pumpkin Oatmeal Scotchies

Ingredients:
1 1/4 cup cups all-purpose flour
1 teaspoon baking soda
1/2 teaspoon pumpkin spice
1/2 teaspoon cinnamon
1/4 teaspoon nutmeg
1/4 teaspoon salt
1/2 cup unsalted butter, at room temperature
3/4 cup granulated sugar
3/4 cup packed brown sugar
1 large egg
1 teaspoon vanilla
1 cup pumpkin puree (not pumpkin pie filling)
3 cups old-fashioned oats
1 1/2 cups butterscotch chips
Method:
1. Preheat oven to 375 degrees F. Line two baking sheets with parchment paper or a silicone baking mat and set aside.
2. Whisk flour, baking soda, pumpkin spice, cinnamon, nutmeg, and salt in a small bowl. Set aside.
3. Beat butter, sugar and brown sugar until smooth and creamy. Add egg and vanilla extract. Next, add in pumpkin and mix until combined.
4. Slowly add in flour mixture. Stir in oats and butterscotch chips.
5. Drop dough by the tablespoon onto prepared baking sheets. Bake for 10 to 12 minutes or until the cookies are set and golden. Remove cookies from the oven and cool on the baking sheet for 2 minutes. Transfer to a wire rack and cool completely.
Makes 2 1/2 dozen cookies