Every year I try to make the most of the fall months by making as many pumpkin recipes as I can. I am pumpkin obsessed. I can never get enough pumpkin. I recently created a delicious pumpkin breakfast-Pumpkin Quinoa. If you haven't tried quinoa, you must. Quinoa is a seed that is high in protein and gluten free. It has a slightly nutty flavor and a nice crunchy texture. It is typically used in savory dishes/salads, but I used it to create a hearty and filling breakfast.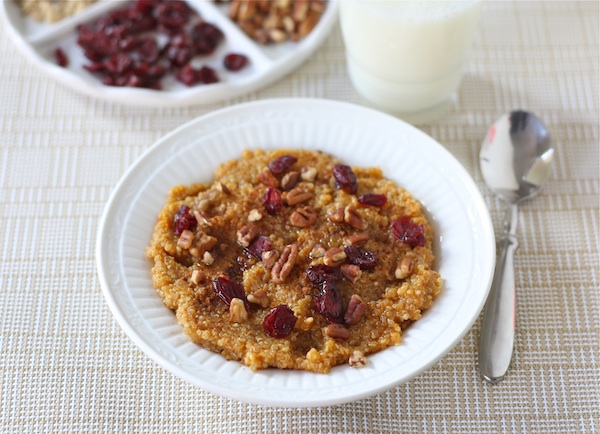 I love adding pumpkin to my oatmeal in the fall, so why not add it to quinoa? I cooked the quinoa on the stove and stirred in pumpkin, cinnamon, nutmeg, ground ginger, and cloves. I added brown sugar for a little bit of sweetness and topped my bowl off with chopped pecans and dried cranberries. I had a healthy, comforting breakfast in no time. If you are looking for a new way to enjoy pumpkin this season, try this Pumpkin Quinoa recipe. It is a great way to start the day.
If you are addicted to pumpkin, like me, you might also like these pumpkin recipes:
Enjoy pumpkin season!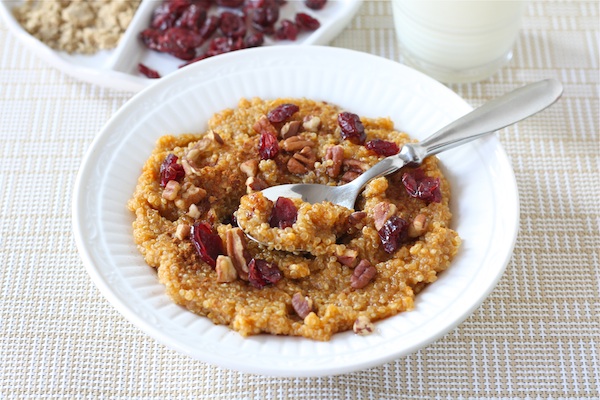 Pumpkin Quinoa Breakfast 
Ingredients:
1 cup milk
1 cup water
1 cup rinsed quinoa
1/3 cup pumpkin
1/2 teaspoon cinnamon
1/8 teaspoon ground nutmeg
1/8 teaspoon ground ginger
Pinch of ground cloves
1/4 cup brown sugar
1/3 cup chopped pecans
1/4 cup dried cranberries
Directions:
Combine milk, water and quinoa in a medium saucepan. Bring to a boil over high heat. Reduce heat to medium-low; cover and simmer 15 minutes or until most of the liquid is absorbed. Turn off heat; let stand covered 5 minutes. Stir in pumpkin, spices, and brown sugar. Transfer to four bowls and top with pecans and dried cranberries. Serve warm.
Serves 4