Probably one of the most intimidating parts of beginning a quilting project is choosing just the right fabric. Here are a few simple tips to help in that process.
Choosing Fabric for Quilting
There are two main factors to consider when picking fabrics for a project: color and scale.
Color:
Above is a collection I used for a recent quilt. First I picked a balanced variety of colors – especially lights vs darks (or in this case lights vs brights.)  Then I picked different shades of the same color. Look at the oranges – they are all part of the same color family, but they are all different shades. This will give your quilt a lot more visual interest. Fabrics colors that are too matchy-matchy (i.e. all the oranges are the same shade) will make your quilt feel flat.
Scale or size:
Currently there are some gorgeous large-scale graphic prints available. They are so fun to work with and make a really interesting quilt. But if every print you use is the same scale (size), your quilt will look out of control. There will be no place for your eye to rest and the beautiful big prints will just get lost. What we need is contrast. Not only in color, but in scale.  So again, I divide my fabrics into groups by scale: Large, medium, and small.The large and medium scale prints are both busy and colorful but the design repeats are closer together in the medium scale prints. The small prints almost read as solids.  They aren't solid, but if you step back and squint your eyes they look like a solid color.  These prints provide the contrast for the busier large and medium size prints to really show them off.  They provide a place for your eye to rest.  You can use actual solids – which I sometimes like – but the design becomes more flat. With a small print 'solid' you get more 'texture' or interest to the quilt.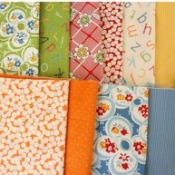 Above are the fabrics I chose for the project we're going to work on for this series. The 10 different fabrics are in the top left corner. I chose an equal balance of colors (2 fabrics per color) and tried to vary the prints' scale for each color. When breaking down the fabrics by scale alone, there is also a balance of small, medium, and large.
With the myriad of fabric designs out there to choose from, it can still be overwhelming to narrow down your options. I suggest picking one focus fabric first, then building your quilt around that one fabric. In this example above we chose the jungle print first and used it as our jumping off point for choosing matching colors. From there we went for a variety of scale options.
When you've assembled your fabrics – and before you start cutting – stand back and look at the collection as a whole. Squint your eyes to change perspective. Is something too dominant? Something lacking? Now's the time to change.
If you are still experiencing some analysis paralysis about choosing fabrics there are some excellent products on the market right now that make great shortcuts. First of all, most designer fabrics come in collections with coordinated colors and a variety of print scales. Stick inside a collection and it simplifies your decision.
Even better, fabric companies like Moda now feature pre-cut coordinated fabrics in squares and strips.  One product called Charm Packs (above) contain about 40 different 5″ squares – at least one print from an entire collection. They also come in a pack of 10″ squares. I frequently recommend Charm Packs to beginning quilters as a simple way to get a large variety and easily coordinated collection of fabric, without having to buy a lot of yardage.
I have more detailed information on fabric stores, quality, collections, and lingo at this Fabric Shopping 101 post.
Up next in our Quilt Along Series: Designing the Pattern