It can be hard to shop for creative people! Most creatives know how to make things themselves, DIY-ing almost anything, so it can be hard to know how to give them the right gift. So I love these 9 Quirky Gift Ideas I found that I know anyone creative will love to receive this holiday season – me included! (hint, hint)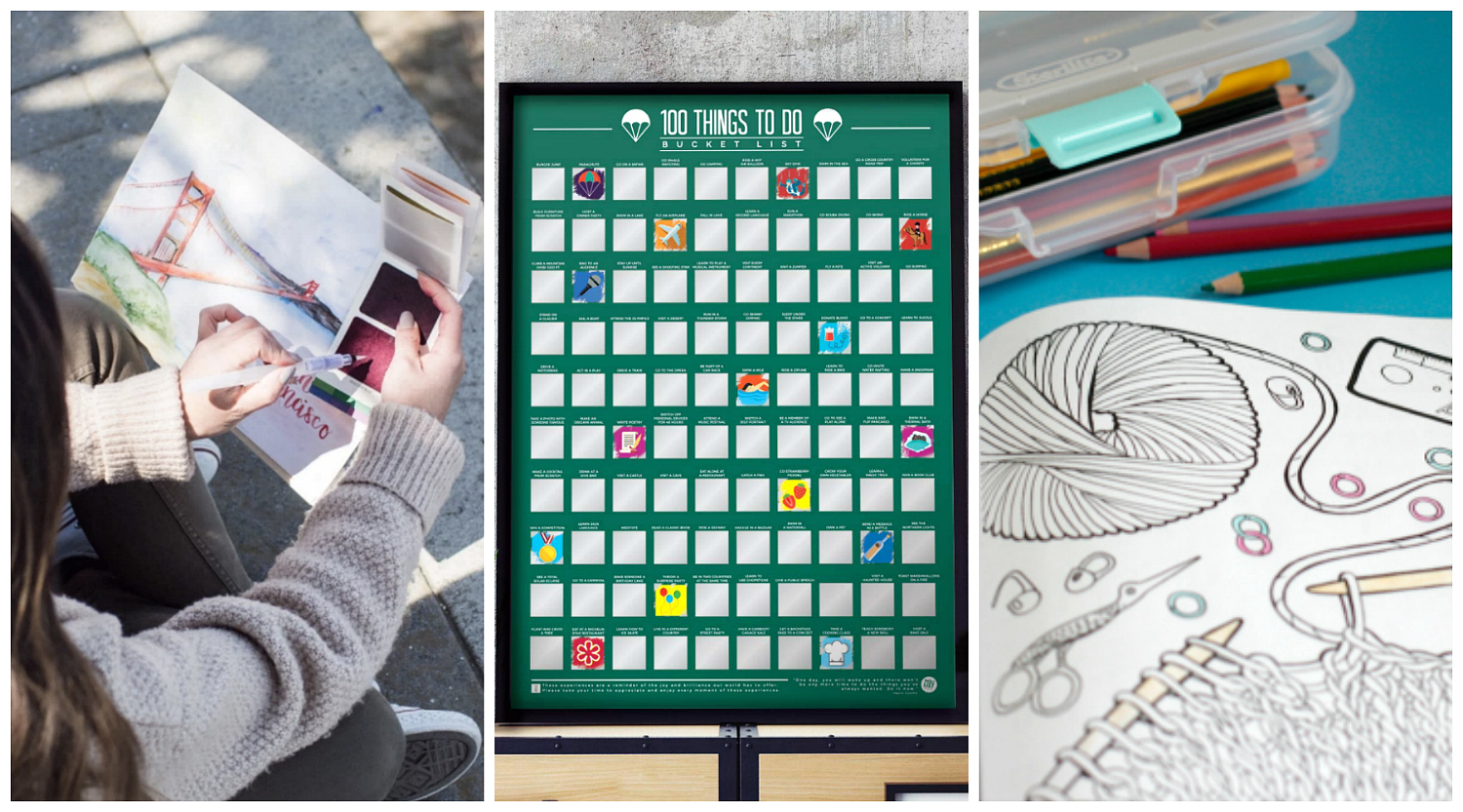 My favorite below is the watercolor on-the-go sheets, it's already on my Christmas list! But with any one of these gift ideas below, It's all about how we can spark creativity, keeping it alive. These are must-buy gifts for your creative loved ones!
9 Quirky Gifts for Creative People
1. Bob Ross Heat Changing Mug – what a fun and creative scene this mug brings when it's warmed up with a hot drink! It's color changing powers make me smile every time I have tea!
2. TrueBalance STEM Coordination Game – what I love about this, for both kids and adults, is the practice of balance and fine motor skills that can only help in all sorts of creative ways. Strengthening the finger muscles for more crochet or painting projects!
3. Scratch Off "Things to do" Poster – a really fun way to keep track of the things you can do with your friends and family?! I love the idea of scratching off the ideas and working towards checking off all 100 things to do!
4. Viviva Colorsheets Paint on the Go – these are so cool and it's on my holiday list! They are meant to take anywhere, put them in your bag, take them out when you're inspired, and paint on the go!
5. Harry Potter Yarn Ball Bowl – Accio yarn!! While you're rolling along with your yarn creations, might as well have a little fun as you're skein starts to disappear!
More Creative Quirky Gifts
6. Philips Hue Ambiance Light Strip – I own one of these light strips and it's so. much. fun! It changes colors with the 'Hue App', and sets the stage for all sorts of creativity, depending on the different light settings you choose!
7. Create Your Own Reel Viewer – yes please, bringing back the toys of my youth and adding in the fun aspect of customizing it with my own family photos! Fun for the whole fam.
8. Paint Water, Don't Drink This Mug – ha, this is the best! Watch out for the paint water. Oh ya, I need this when I paint. I have actually dipped my brush into my coffee mug. Yup!
9. Knitter's Coloring Book – I have this book and love it. Not only is it relaxing to color with adult coloring books, these knitting pictures all about yarn make me happy!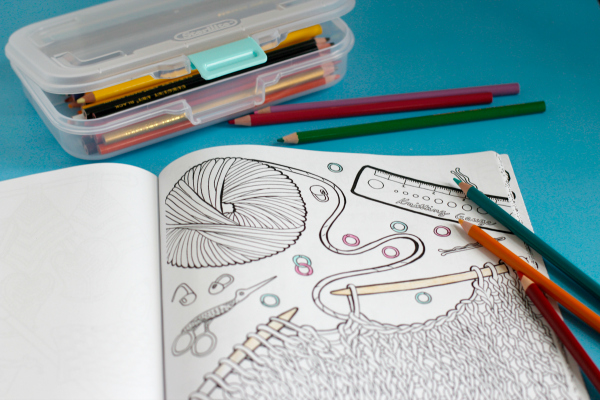 Pin these Ideas for Quirky Gifts: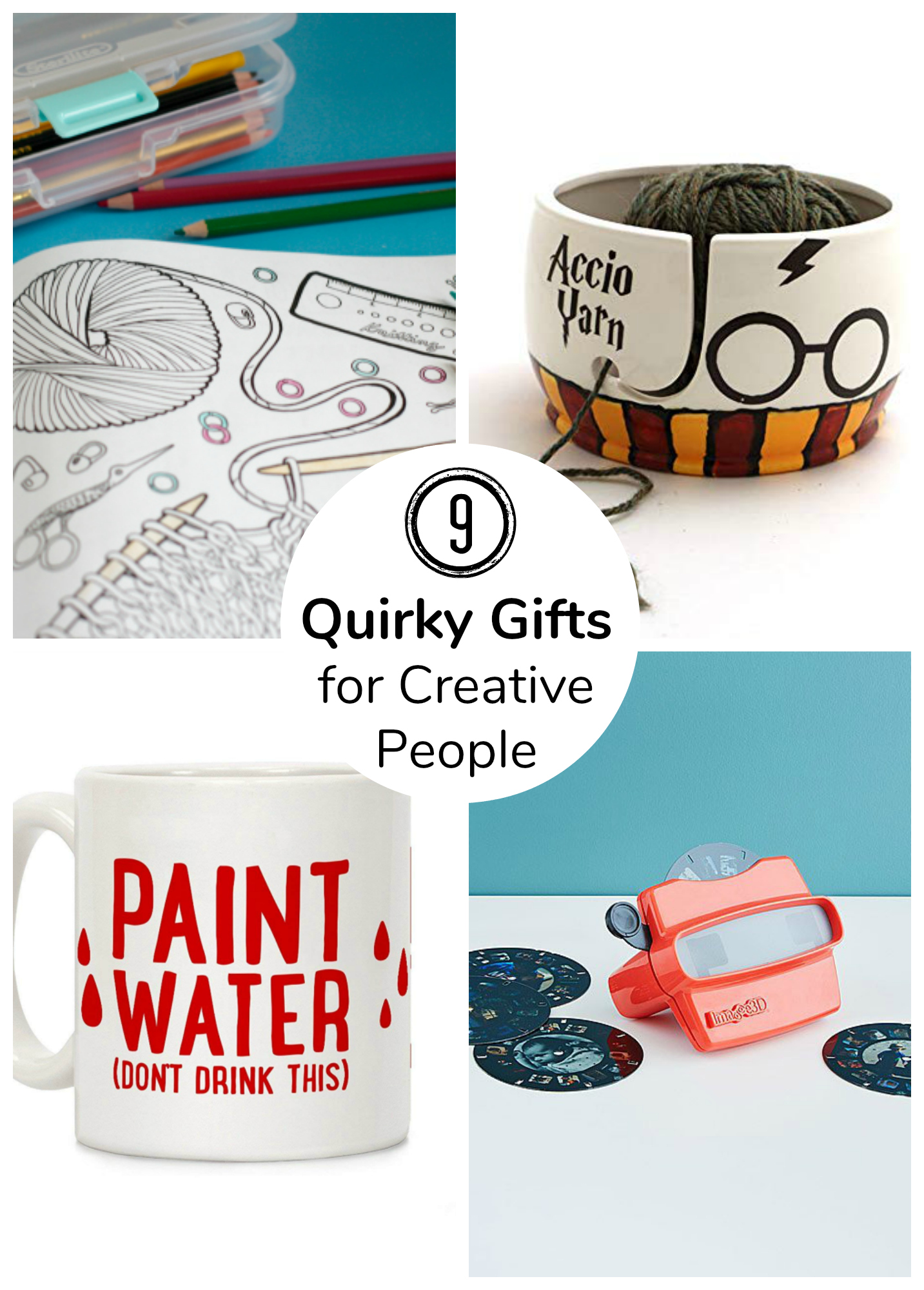 *This post contains affiliate links. Thanks for supporting Make and Takes!