For my daughter's birthday, as I do with each of my kids, I let her choose a fun theme for their party. This year she chose Rainbows! It's the perfect theme for a party. There are so many great ideas for decorating a Rainbow Birthday Party with games to play and treats to eat. Keep reading to see all the fun we had with rainbows.
Decorations for a Rainbow Birthday Party:
Balloons: This is an easy way to decorate for a rainbow theme. Balloons come in all colors. You could blow up 10-15 balloons and leave them on the ground for the kids to play with as they arrive, or tape them to a ribbon and hang them as a wall or door decoration for a Balloon Garland.
Zig-Zag Rainbow Streamers: I love these tissue paper streamers from Oh Happy Day. It's a great way to decorate with rainbow colors.
Rainbow Crafts for a Birthday Party:
Rainbow Crowns: when the guests arrived, they were seated at the table to decorate their own rainbow crown. I set out bowls of coloring items and even a few cotton balls for "clouds". I also cut out small white cloud shapes from paper for them to decorate. We used those later for the "pin the cloud on the rainbow game".
Rainbow Pasta necklaces: The night before the party, I colored tube shaped pasta with food coloring and set it out to dry. Each color of pasta was placed into a different bowl. I cut a length of rainbow yarn for each child, complete with tape on the ends for easy threading. The kids got to work making their own necklaces.
Other ideas for Rainbow Crafts:
Rainbow Birthday Party Games:
Shaving Cream Cloud Creations: This is one of our favorite activities. One can of cheap shaving cream lasts forever. You can do this right on your table, but for fast clean up, we placed down a plastic table cloth. Give each child a squirt or two of shaving cream right in front of them and let them go! We talked about clouds and how we were making silly cloud creations.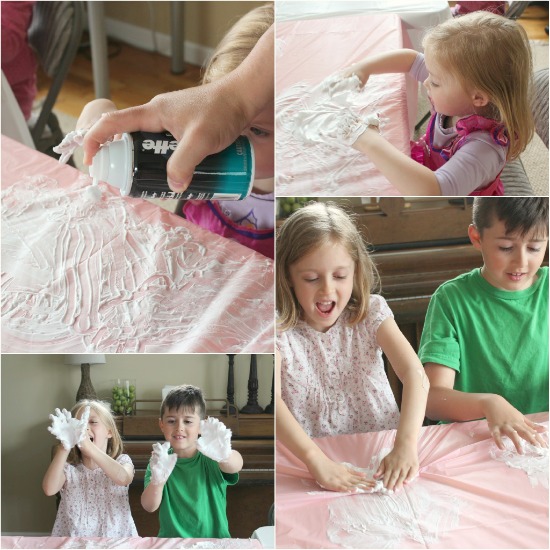 Pin the Cloud on the Rainbow: Have each child decorate their small paper cloud piece when they arrive. Be sure to put their name on the front of each. They can add colors or cotton balls to decorate. You will also need to create a large rainbow from a poster board and some markers. Then blind fold a child, holding their cloud with tape on the back, and point them in the direction of the rainbow on the wall. Have them stick their cloud to the wall. It's fun to see where kids land their clouds.
Musical Rainbow Walk: Cut out square rainbow paper sheets and 2 white "cloud" sheets. Make enough squares for each child. Play some music and when the music stops, the kids stop. Whoever is on the white clouds gets a rainbow candy treat, like Skittles or Starburst. Dad did a good job of manning this game, making sure that at some point each child landed on the white cloud for a treat!
Scavenger Hunt: I love to do scavenger hunts. The kids go crazy for them. And it's a great way to give out the party favor bags at the end of the party, making them the "treasure" they find at the end. Here are the clues I wrote, although this picture is a bit blurry. We did one clue on each color of rainbow paper.
Rainbow Treats to Eat:
For a quick snack during the party, and as an activity, each child made their own Rainbow Skewer Snacks. Each child got their own bowl of rainbow colored fruit: red strawberries, yellow pineapple, green grapes, and blueberries. With a wooden skewer, they placed on their fruit in any order they wanted. Anyway you do it looks like a pretty rainbow. Once their skewer was filled, they could eat it up!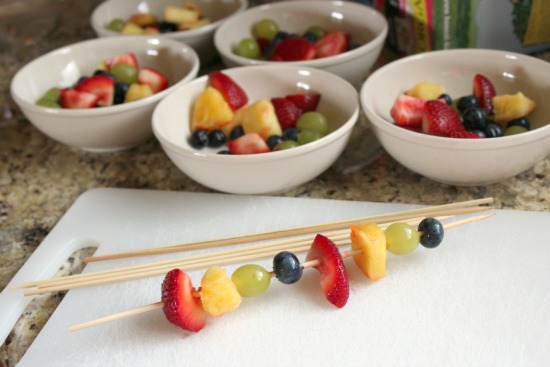 You can also bake some Rainbow M&M cookies as an easy kid-friendly treat.
Even mixing up a batch of Rainbow Pudding would be a fun snack. The kids could help with this one and make their own.
For dessert, mini cupcakes with pink frosting and rainbow sprinkles. We also found some fun rainbow candles for the birthday girl to blow out. Tip: take the liners off the cupcakes ahead of time for little ones. Saves you from doing it later for each child when they are dying to eat them up.
Rainbow Inspired Party Favor Bags:
Traditional Favor Bags are an easy way to gift your little party guests and say thank you for coming. I found these fun rainbow bags at Target and filled them with colorful things. Crayons, rainbow candies, markers, bubbles, balloons, and bracelets.
You can also make these Pot of Gold Party Favors. Paint a mini pot black, add some candy and rainbow colored pipe cleaners.
Other Resources for Rainbow Birthday Parties:
Have you ever hosted a rainbow birthday party? What ideas have you come up with? Share them in the comments!