Mother's Day is just around the corner and there is no better time to spoil your mum with some Raspberry Chocolate Croissant Pudding. Well, we should shower our mums with love every day and show how appreciated they are …but, we have to go that extra mile to make it even more special on Mother's Day! Fabulous fresh flowers, a little bit of personal tough through handmade gifts and of course, amazing food!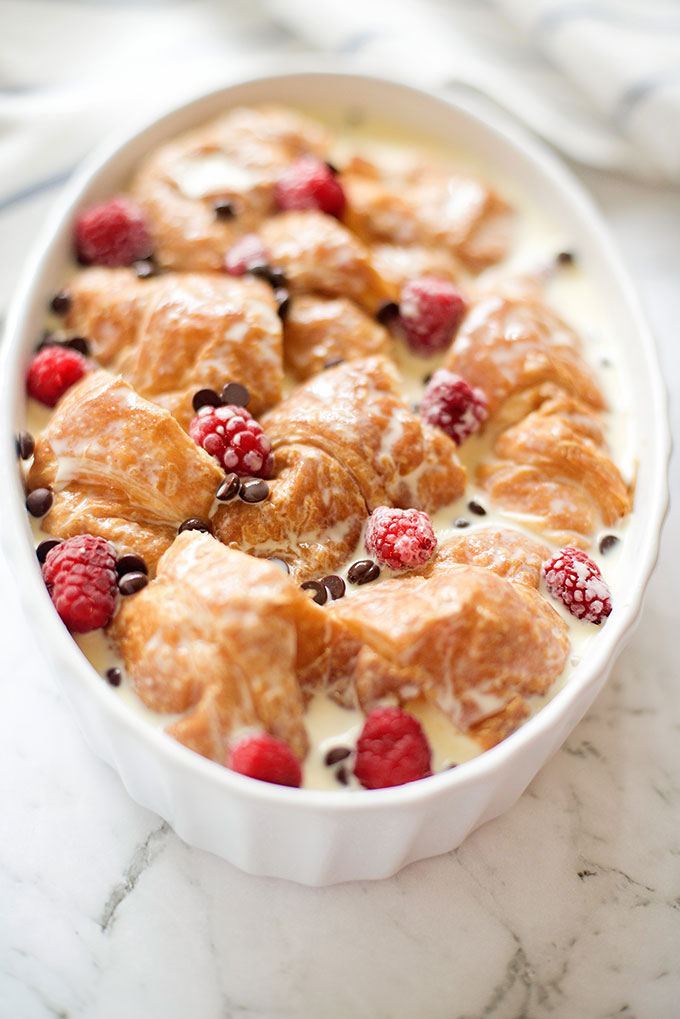 Raspberry Chocolate Croissant Pudding!
I love Mother's Day brunch at home! There is no better thing than brunch at home… at least when it comes to Mother's Day. No waiting line, no reservations, no last minute unpleasant surprises, just hanging out with your family while you are still enjoying all your favorite treats.
One of my favorite brunch recipe for Mother's Day is Raspberry Chocolate Croissant Pudding. Quick and so easy to make, this pudding will certainly brighten your mom's day.
Who can resist buttery pieces of flaky French croissants, raspberries (or any type of berries you love) and chocolate, baked all together in a creamy custard until thick and fluffy?!
Serve it hot with some confectioner's sugar sprinkled on top and more fresh raspberries (or any type of berries). You can add a drizzle of maple syrup, or a dollop of whipped cream, or even more custard if preferred. I love this Raspberry Chocolate Croissant Pudding as it is, with no extra toppings.
Raspberry Chocolate Croissant Pudding Recipe
Ingredients
4 large croissants (can be 1-2 days old)
1 tablespoon butter, at room temperature
1/3 cup dark/ milk chocolate chips
4 eggs, at room temperature
2 teaspoon vanilla essence
1/4 cup sugar
300 ml heavy cream
1/2 cup milk
1 cup fresh raspberries (or any other berries)
confectioner's sugar, to dust
Method
Preheat oven to 350F. Grease with butter a 9-10 inch ovenproof pan and set aside.
In a medium bowl, whisk eggs. Add vanilla essence, sugar, heavy cream and milk and whisk until combined. Set aside.
Cut croissants horizontally in half and add the bottoms halves to the greased pan. You can cut them in smaller pieces to create an evenly layer. Top with ½ quantity of the chocolate and raspberries and pour ½ of custard too.
Cut each croissant halved top sandwich in half crosswise and add them to prepared pan in a single layer. Pour over remaining custard and allow to stand for 10 minutes, pressing to submerge croissants in egg mixture, if necessary. Sprinkle top with remaining chocolate chips and raspberries.
Cover with foil and bake for 25 minutes. Remove the foil and bake for another 10-15 minutes, until set. Remove from oven and allow 5 minutes before serving.
Dust with confectioner's sugar, add more fresh raspberries and serve!