These Raspberry Cream Cheese Scones are a bright celebration of the intersection of sweet and tart. The scones are infused with fresh raspberries and small cubes of cream cheese, which provide a delicate tartness from the berries and a bold tang from the cheese.
With Mother's Day around the corner, I've been spending time in the kitchen testing out recipes to surprise my mother with on her special day. Over the last few years, it has become a tradition to serve my mother a homemade brunch when she awakes on Mother's Day. With the smell of baked goods wafting out of the oven and a stove top of sizzling meat, the scent lures her out from beneath the covers and into a seat at the kitchen table. Each year the menu may be a bit different, but the results are the same—a very happy mother.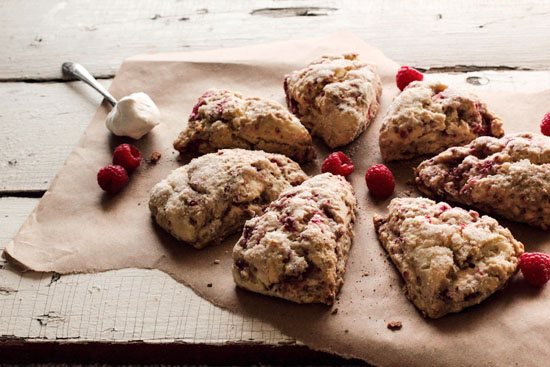 Raspberry Cream Cheese Scones
As I sat down to design a menu this year, I wanted to include something that would embody two of my mother's favorite flavors, cheesecake and berries. My mother has always been a fan of traditional breakfast pastries so a scone seemed like the perfect vessel to deliver the flavors. After a couple of attempts, I finally found the perfect combination of ingredients. While she will have to wait a few more days before her first bite, my own family of taste-testers have assured me that she will adore them. It may be a simple thank you to my mother for everything she has done, but it comes from the heart (and that's what really counts).
Before baking, the scones are sprinkled with sugar for extra sweetness. I prefer to serve these with a lightly sweetened whipped cream and a few fresh berries on top. The sweetness of the whipped cream provides a lovely contrast against the scones and rounds out the overall flavor. These will be certain to bring a smile to the mothers in your life.
Raspberry Cream Cheese Scones
Yields 8 scones
2 cups (250 grams) all-purpose flour
4 tablespoons (56 grams) granulated sugar, plus extra for sprinkling
1 tablespoon baking powder
1/2 teaspoon salt
6 tablespoons (85 grams) butter, cut into small pieces
6 ounces (170 grams) raspberries (fresh or frozen)
4 ounces (115 grams) cold cream cheese, cut into small cubes
1 large egg
1 teaspoon vanilla extract
1/2 cup (120 ml) heavy cream
Preheat oven to 350 degrees F (180 degrees C).
In a large mixing bowl, whisk together flour, sugar, baking powder, and salt. Cut in butter with pastry blender (or your hands) until mixture resembles coarse sand. Gently fold in raspberries and cream cheese cubes. Set aside.
In a small bowl, beat together egg, vanilla, and heavy cream. Pour over the scone batter and lightly mix until the dough comes together. The dough will be somewhat sticky.
Turn out dough on a lightly floured surface, form a circle, and flatten it until it is about 1-inch thick. Using a sharp knife dipped in flour, cut 8 equal pie wedges (the dough may be slightly unmanageable, but not adding additional flour results in tender scones). Transfer scones to a baking sheet and sprinkle the tops of the scones with a  granulated sugar. Bake for 25-30 minutes, or until lightly browned.
Serve warm or at room temperature, with a dollop of whipped cream and fresh berries.