As much as I love picture books to read with my kids, I love reading chapter books with them too. In school, it's often referred to as a "Read Aloud", meaning you read it aloud to the kids. My son is 5 and I decided to try reading a chapter book with him. Even though some things may be a little over his head, he is catching most of it and loves it. I also think he loves the "mommy reading" time too.
It can be tricky for kids to transition from a picture book to a chapter book. With very few pictures, chapter books use a child's whole imagination, hearing your words and forming their own images. After each chapter, I suggest you do a little review with your kids, whether they're young or older. This way you see if they got the main idea of the book, then you're ready to move on to the next chapter.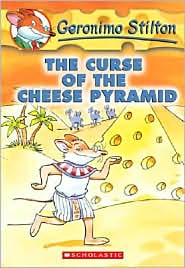 My son and I are currently reading Curse of the Cheese Pyramid from the Geronimo Stilton series. Grandma had given this book to my son on CD and he has already listened to it before. It was fun for me to be involved in the book this time and read it to him again. We already have a fun Make and Takes Storytime idea all lined up for celebrating this book when we are finished.
Here are a few Chapter Book suggestions to start with.
Younger Kids:
Older kids:
Books as Movies: I also like to choose chapter books that have been made into movies. The book may be easier for your child to grasp if they have seen the movie version first. It will be more familiar to them. Here are a few good ones.
What chapter books have your Read Aloud to your children? I know there are SO many more great ones out there!