The crocheting never seems to stops around here. There are too many fabulous crochet projects to try. I've only just begun to dip my "hook" into the amazing ideas out there. So here are just a few things I've been making, all of which would be the perfect gift idea, so get crocheting!
First, I found this simple way to store your small leftover yarn scraps from the Felted Button pictured below. Susan uses clothespins to keep the yarn altogether and separate from the rest. It's so smart! I will now have a basket of little mini's like this soon.
6 Super Fab Crochet Projects
1. Harry Potter Scarf:
Yes, I had to crochet one of these. My sweet nephew requested this one. I used my Simple Scarf Pattern and changed the colors out every 10 rows. I also added stings hanging at the bottom of both ends, simply by tying 2 strings of each color to each space on the ends. There are 12 ties on each end. Now my kids, big Harry Potter fans these days, want their own as well. We'll have a whole house full of Gryffindors!
2. Baby Booties:
I've just made these for a new baby cousin in the family. I couldn't resist when I came across this video pattern from Crochet Hooks You. It is a super simple pattern. Pretty much a rectangle and then stitched together. I added the color border to the top, just a single crochet stitch in a new color all the way around the opening. They are so sweet. I see more of these being made to all the new babies I know!
Baby Bootie How-To Video
3. Arm Wrap:
They are so fun to wear anytime of the year. And again, just like the booties above, this projects is basically a rectangle and then stitched up in a tube. What I loved about this project from Bob Wilson 123, is the texture using a ribbed pattern. Once you've mastered a few of the basic crochet stitches, you need to go for this project, so fun and super easy!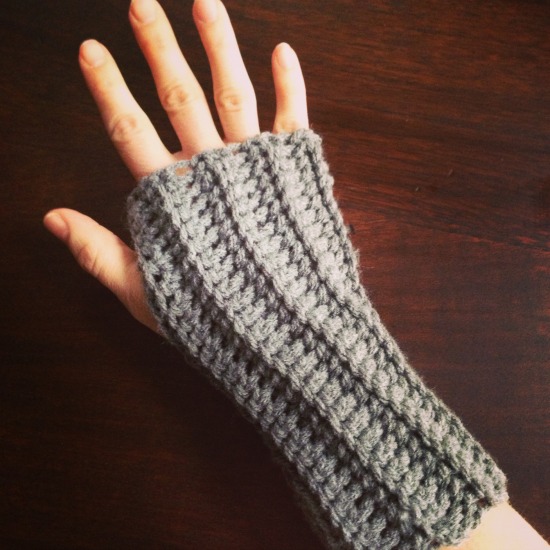 Arm Wrap How-To Video: 
4. Granny Square Blanket:
I'm knee deep in granny squares and I love it. These are so fun to make. I'm switching out colors for each row and it's so fun. Lots and lots of tails to hide, but worth it. The colors are fabulous, thanks to Lion Brand Yarn for the lovely Vanna's Choice yarn. It's warm, snuggly, and oh-so bright and cheerful!
5. Crochet Circle Rings:
I'm making more and more of these fast and fun mini crochet circle rings. This time around for crafting these, I'm glueing on a few beads and mini yarn pom-poms for the centers, giving them a color accent. I love them. Everyone I know will be getting these, the newest "make and take"!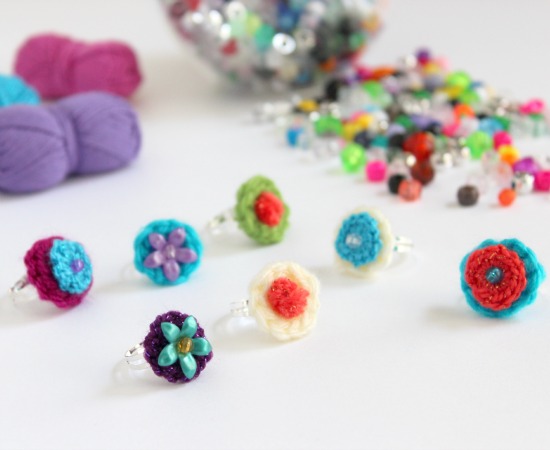 6. Rainbow Afghan:
It's finally done! Wahoo, three cheers for me. It's my new favorite snuggle blanket, well, until my granny one is done ;). It took me 5 months stopping and starting again, only because it got a little monotonous. But that's what is nice about crochet, you can start and pause a project, easily coming back to it later. I love the look of it. I plan to share the pattern soon. But it's basically 100 chain stitches, 12 rows of double crochet stitches, and 2-3 rows of chain 2 extra-skip 2 loops. Repeat! It was a really fun trial and error blanket, I was making it up as I went! And I added a little crescent border to the edge. 
See? Super cuddly! My kids beg to be the one wrapped up in it for tv time!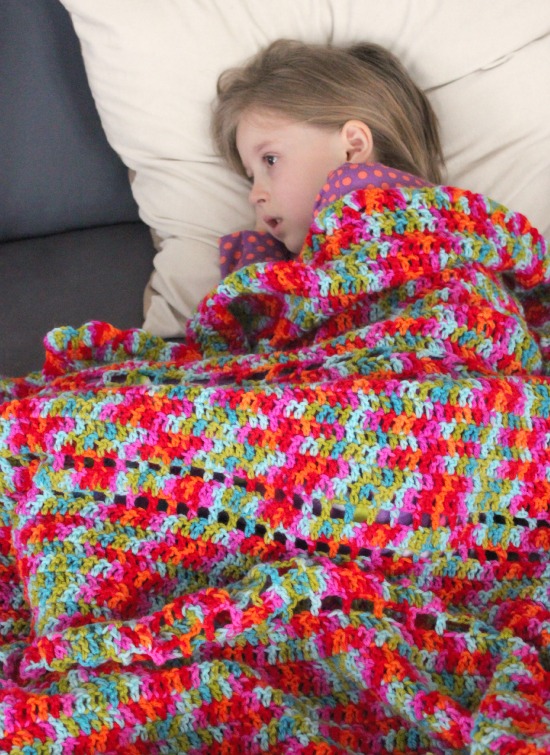 I've put together all my crochet projects in one handy place. See our Crochet Patterns and Tutorials page for more fun ideas and to get started if you're a beginner!