With Valentine's Day here, baking a red velvet cake are just perfect treats due to their fabulous bright red color. No one can resist moist, slightly chocolate flavored red velvet cake layers with cream cheese frosting and some sprinkled cake crumbs on top, right?!
Making a stunning red velvet cake at home used to be such a drama. I was always ending up with more brownish colored cake layers then vibrant red ones. But no more! It is all about having a good recipe that will deliver moist, perfect colored red velvet cake!
I have a couple of tips to share with you that will help you bake this perfect Red Velvet Cake. First, all your ingredients need to be at room temperature before you start mixing them. They mix better this way. Second, use full fat dairy products to get the moistest cake ever! If you're going to choose low fat versions to bake this cake the result won't be the same at all. Oh, last but not least, you will need a lot of red food coloring to get this vibrant red color!
When it comes to decorating your red velvet cake, you can put your own spin on it!
I have chosen a naked frosted velvet cake this time, sprinkled with some cake crumbs and decorated with some red flowers. You can choose to frost the entire cake all the way around or leave the layers unfrosted on the sides to showcase the fun, vibrant red color. So many possibilities!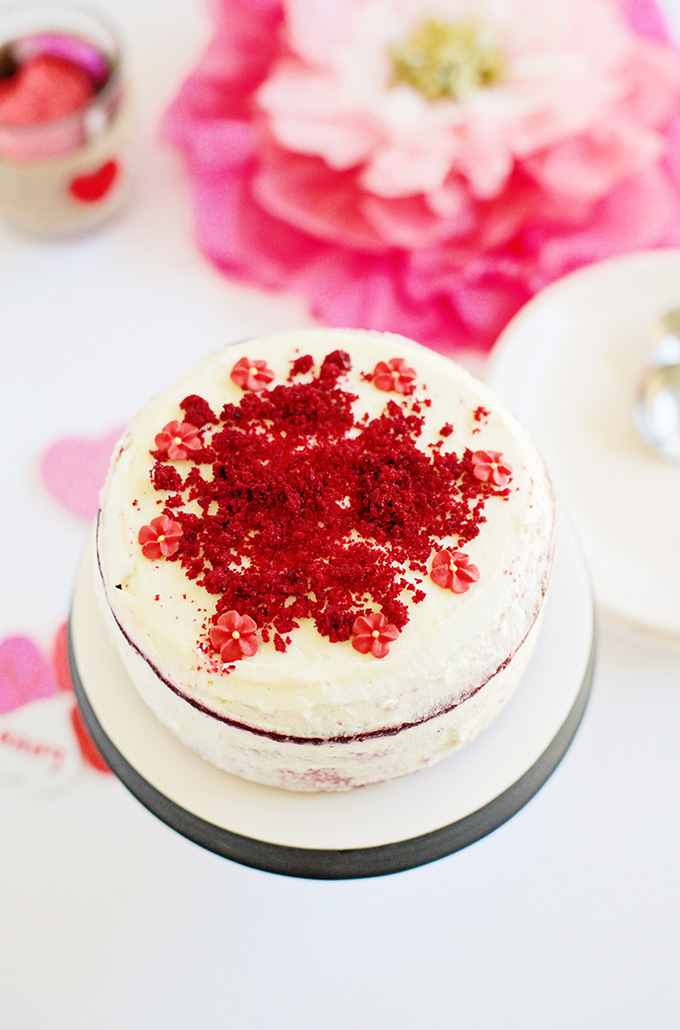 Red Velvet Cake with Cream Cheese Frosting
Cake ingredients
1 cup unsalted butter (at room temperature)
2 cups sugar
4 large eggs
1 cup full fat sour cream
½ cup whole milk
4 tablespoons red food coloring
2½ cups all purpose flour
½ cup cocoa powder
1 teaspoon baking soda
1 teaspoon baking powder
Cream Cheese frosting ingredients
8 oz cream cheese (at room temperature)
½ cup unsalted butter (at room temperature)
4 cups confectioners sugar
½ cup cornstarch
1 tablespoon vanilla extract
Method
Making the cake:
In a large bowl, cream together soft butter and sugar until light and fluffy, using a hand mixer. Add 1 egg at the time and incorporate them into mixture. Add milk, sour cream, red food coloring and beat until you have a smooth batter.
In a separate bowl, mix together dry ingredients: flour, cocoa powder, baking powder and baking soda. Add dry mixture to the butter one and mix until just combined.
Preheat oven to 350F.
Grease and flour 3 (6 x 2-3/4 Inch) springform baking pans. (If you don't have 6 inch pans, use two 9 inch ones ). Pour the cake batter into the pans. Bake for almost 40 minutes or until you can insert a toothpick and will come out clean. Remove from oven and allow to cool down before cutting it into 3 layers.
To make cream cheese frosting:
In a large bowl, beat together butter and cream cheese. Add vanilla extract and mix again. Add powdered sugar and cornstarch while continuing to mix until all the sugar is incorporated.
Assembling and frosting the cake:
Using a large serrated knife, slice a thin layer off the tops of the cakes to get a flat surface. Set these pieces of cake aside to create crumbs for decorating.With the same serrated knife, cut your cakes into 3 layers. Place bottom cake layer on your cake stand or serving plate and cover evenly the top with cream cheese frosting. Top with second layer and spread some more frosting all over the top. Add third cake layer and finish decorating with cream cheese frosting. Decorate the sides too, if preferred and sprinkle crumbs on top. Refrigerate for 30 minutes before and serving.