I love apricots with these cornmeal shortcakes and a sprinkle of chopped almonds. A scoop or two of vanilla ice cream is wonderful, but if you're feeling extra naughty, a scoop of salted butter caramel or dulce de leche ice cream would not be unwelcome.
Two of my neighbors have gorgeous apricot trees that have been completely overloaded with these gorgeous, blushing fruits.
I like to use apricots raw in smoothies and salads. But it's when apricots are cooked that their flavor is at its best and more glorious. Roasting the apricots deepens that luscious flavor.
Roasted Apricot Cornmeal Shortcakes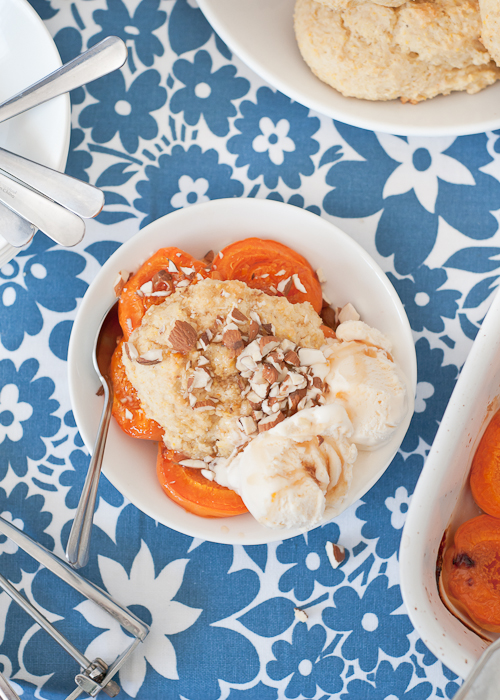 Roasted Apricot Cornmeal Shortcakes
recipe by Lindsey Johnson
Ingredients:
For apricots:
3 lbs. firm, but ripe apricots (about 20-30)
1/2-3/4 cup brown sugar (use more if apricots are tart)
For shortcakes:
1 1/2 cups all-purpose flour
1/2 cup cornmeal (preferably stone-ground)
1/4 cup granulated sugar
2 tsp. baking powder
1/2 tsp. baking soda
1/2 tsp. salt
1/2 cup cold butter, cut into 8 pieces
2/3 cup buttermilk (or soured milk)
1 large egg
1 tsp. vanilla extract
For serving:
Vanilla or caramel ice cream
Chopped almonds, optional
Method:
For apricots:
Preheat oven to 425 degrees F.
Halve and pit the apricots. Place the apricots, cut-side up in two 8″ by 11″ baking pans, or on a large baking sheet lined with parchment. Sprinkle the brown sugar over the apricots. Roast for about 20-30 minutes. (If you're in a hurry, you can place the pans under the broiler for about 5-10 minutes, or until the apricots brown a bit and release their juices.) Remove from oven and keep warm until ready to serve. Leave the oven on for the shortcakes.
For shortcakes:
Line a baking sheet with parchment.
Whisk flour, cornmeal, sugar, baking powder, baking soda, and salt together in a large bowl.
Cut butter into the dry ingredients using a pastry cutter or your fingers until butter is in small pieces with a few larger, pea-sized pieces.
Whisk buttermilk, large egg and vanilla together. Make a well in the center of the dry ingredients and pour the liquid into the well. Using a fork stir together just until all of the liquid is incorporated.
Using an ice cream scoop or large spoon, drop the dough onto the baking sheet. You'll have between 10-12 good sized shortcakes.
Bake for 12-14 minutes, or until golden on top. Remove from oven and let cool slightly before serving.
To serve:
Split each shortcake in half. Place the bottom half in a small serving bowl. Top with some of the apricots–about 6 halves, and the top of the shortcake. Scoop some ice cream onto the shortcake and drizzle a little of the apricot juice over the ice cream. Sprinkle with chopped almonds, if desired.
Makes enough for 10-12.