These soft and chewy salted caramel cookies combine a couple of my favorite treats – caramel, candies, and pretzels!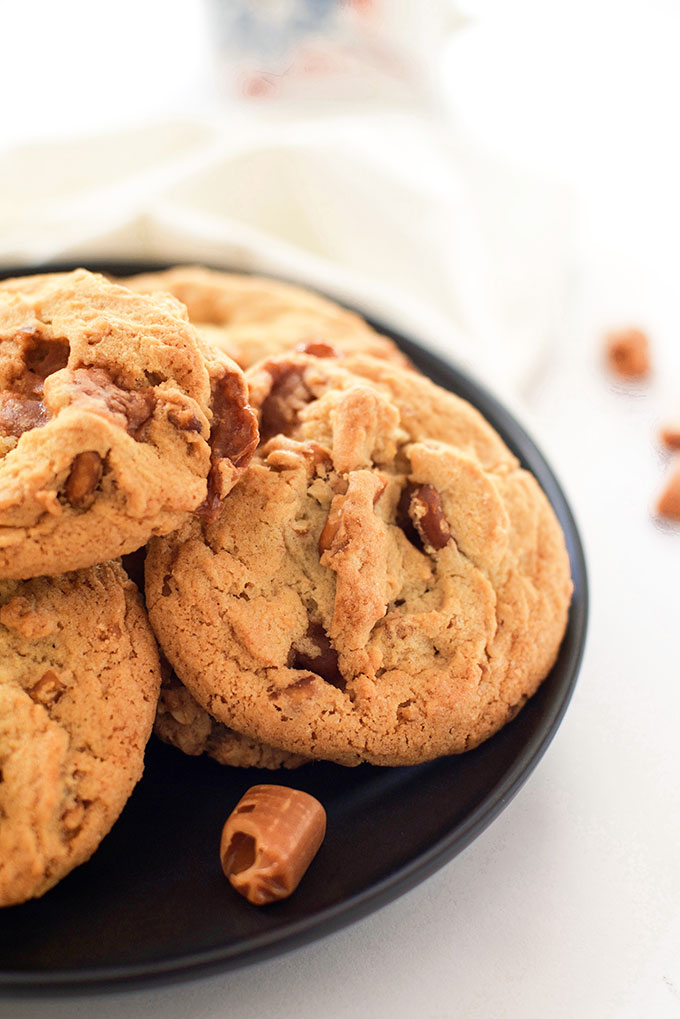 Salted Caramel Cookies
It is so easy to make homemade cookies!
If you love caramel and pretzels, you have to give these cookies a go. You may find yourself loving them more than any other cookie recipe. Absolutely not kidding.
These salted caramel cookies are a little crisp around the edges, but so soft and chewy towards the center. They are everything you would expect and much more!
Each warm bite, asks for more….and more, till there is nothing left J
The recipe is pretty simple and asking for staple ingredients when baking cookies (flour, butter, brown sugar/ sugar, eggs, baking soda and vanilla essence) plus caramel candies and some crushed pretzels.
You can definitely add some chocolate chips in the mixture too, if you want to take these cookies to a new level of awesomeness.
Loaded with gooey, delicious caramel and salty pretzel pieces, these cookies are definitely a crowd pleaser. You can devour them as they are or with summer just around the corner, you can ad a scoop of vanilla ice cream in the center and create an amazingly good ice cream sandwich.
Salted Caramel Cookies Recipe
Ingredients
3 cups all purpose flour
1 teaspoon baking soda
1/2 teaspoon salt
1 1/3 cup butter, at room temperature
1 cup light brown sugar
1 cup sugar
2 eggs
1 tablespoon vanilla extract
1 cup crushed pretzel pieces
around 20 soft caramel candies, unwrapped and cut in quarters
Method:
Preheat the oven to 350F and line two cookie sheets with baking paper.
In a medium bowl, mix flour, baking soda and salt and set aside.
Using an electric mixer, cream the butter and sugars together until light and fluffy, for about 5 minutes. Add eggs and vanilla essence and beat until combined. Slowly add the flour mixture until just combined. Fold in crushed pretzels. Cover and refrigerate the batter for 15 minutes.
Remove the batter from the fridge and roll it into balls, about 1 1/2 tablespoons each. Using your thumb, press into the center to create an indent, place 2-3 pieces of caramel candies into the center of the dough ball and then re-roll the ball to cover the caramel candy. Make sure the caramels are completely covered inside the ball. Repeat with remaining dough.
Place the dough balls on the cookie sheet spaced 2 to 3 inches apart. Bake the cookies until the edges are golden but the centers are soft, about 11 to 13 minutes. Cool completely on baking sheet. Enjoy!