School pictures just came home this week with my girls. And they're adorable. Even if my kindergartner still has wet hair in her picture. We left the house in a hurry that morning. How could I have known the kindergartners would be first to get their pictures taken? Her hair looks best when it dries naturally and her cute curls softly spring into place. So those curls are damp and heavy. Oh well. Her unpracticed smile makes me smile.essay help
Typically, I put the largest school picture in a scrapbook page facing the class picture and call it good. And then I'm left with a dozen wallet size and 5×7's that just end up in a box. I always mean to send them to family or trade with friends, but typically forget.
I thought it would be neat to take a wallet size photo from each year and put them side by side in the scrapbook so we can watch the kids grow up all in one spread. I designed these printable scrapbook pages to help organize these cute school pictures and motivate me to actually get them into the scrapbook!
I also want to send some of these printable scrapbook pages to grandparents with the pictures we have so far attached and then I'll send the new ones each fall. I'd like to see if my siblings will do the same for their kids and then my parents could have one tidy book with all the kids' school pictures together. Christmas gift idea for Grandma, anyone?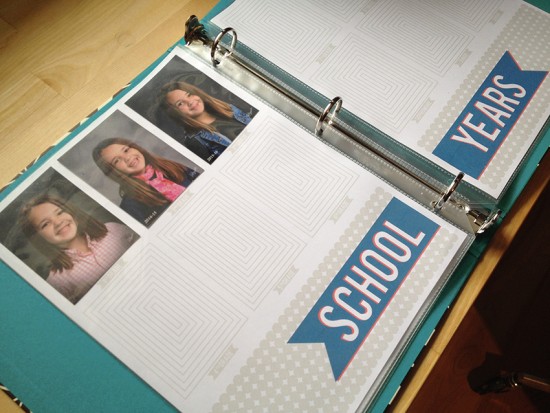 I created several versions of the printable School Picture Scrapbook Pages:
This version is easy to print from home. It will print on two pages of letter size (8.5 x 11″ paper). It has room for 12 wallet size photos, 1st grade to Senior year. picture page_letter
This version is for the scrapbook junkies. It will print on two pages that will end up standard scrapbook size (12×12″). Some serious scrapbookers have special printers that can print this size. Or you can send it to online printers or your local print shop or Fedex office can print them on oversized paper (12×18″) and then you can cut them down. This version has room for 14 wallet size photos, pre-K to Senior year. picture page_12x12
This version is also 12×12″ and has room for 12 photos that are are unlabeled. You can write in your own description of each year. This might be better for kids who have 3 years of preschool pictures as well as k-12, you could print two pages and arrange as you desire. This might be good for sports picture as well. picture page_12x12_blank