This is one of those DIY tutorials that you NEED if you have little ones in your home! Especially with everyone quarantining at home most days, it's helpful to have a quiet door when your baby needs a nap. We're sharing how to make this simple door muff to keep things soft and quiet in your home!
I'm in desperate need to keep my house quiet during nap time. So I came up with this version of a No-Sew Door Muff and it's saving my life as my 2 children share a room. It's a great situation for the most part, but my daughter has a horrible habit of slamming the bedroom door when my youngest is mid-nap. One of my readers suggested that I make a door muff. If you're in a similar situation you're probably thinking… Such a thing exists? How did I not know this?!
DIY No-Sew Door Muff
After a quick search on Pinterest, I found an easy sew version with ribbons. It's cute, but maybe a bit too advance for non-sewists? I like to sew, but I also like to create items for the home that don't require any sewing, love me a good no-sew project. So the wheels started turning. Inspired by the sewn muff tutorial and the fashionable La Pochette clutch, I made one with items I had on-hand in under 10 minutes. You can make yours lickety-split and without sewing, either! Read more for the tutorial.
How to: No-Sew Door Muff
Supplies:
leather
16″ 1/2 inch elastic
hammer
hole punch
corner rounder
scissors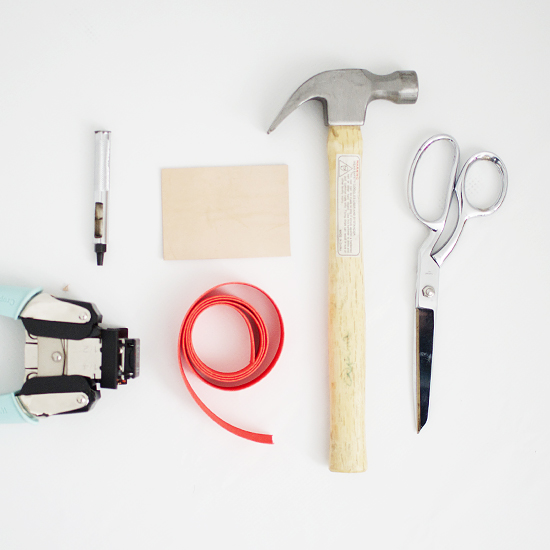 Instructions:
I used 3 ounce veggie tan hide. You can purchase the same thing at Tandy Leather (if you have one close by, they sell scraps by the pound!). You could use pretty much any kind of leather here, but I love the look of the raw hide. I also used 1/2 inch elastic, but you could use heavy elastic cording instead. The corner rounder is by no means required, It just added a nice look to it. In the printable template listed in supplies, I've included rounded corners.
You'll want to print out the template. It has straight and rounded corners. To get a nice rounded edge on the top of my leather, I cut it out upside down.
Punch your holes. I had to double punch the holes for mine, because of the wide elastic.
Thread elastic through the holes.
You can sew, staple or knot the elastic together. I used a zig-zag stitch, because it lays flat and looks clean.
The backside should look like this when done.
Loop it around both knobs and you're done! I liked the leather because it sufficiently dampened the door, but I could still close it all the way. Now go and make!! Your little ones will love it… so will you!
Pin this DIY No-Sew Muff for later: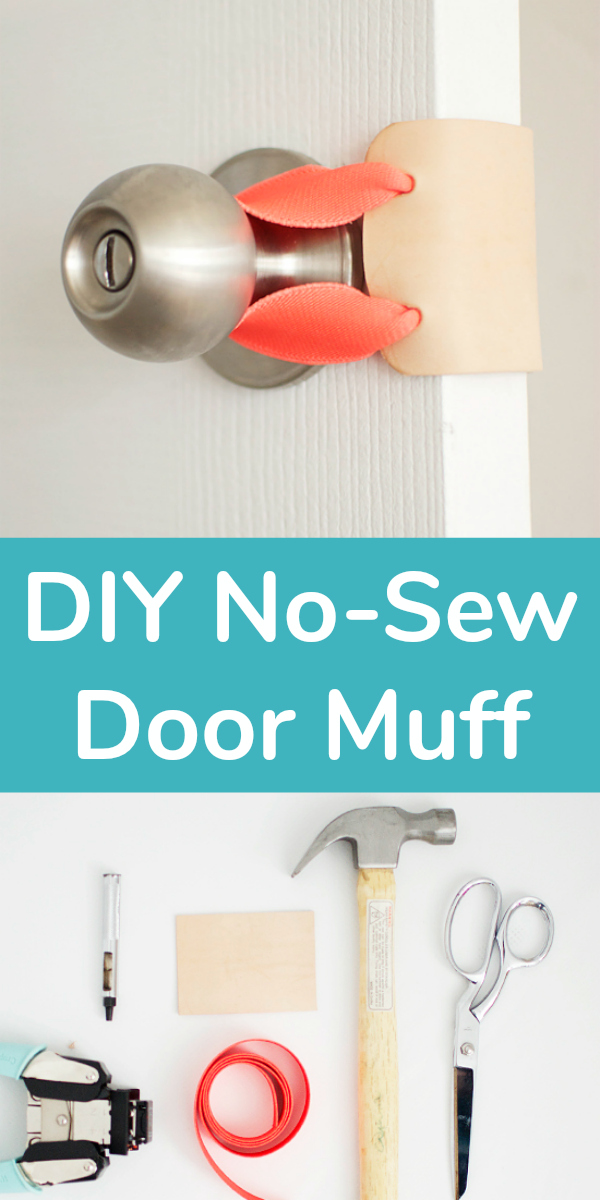 *Originally posted: 9/25/12