Guest Post by Lyndsey of The Stationary Place
I've always loved paper. Stationery, patterned paper, note cards, letterpress – I think paper is gorgeous and I love all of its different uses.
More recently, I've been on something of a crafting binge – and for my last birthday I asked for a sewing machine. Much to my seamstress mother's dismay, so far I've only used it to sew paper. Why? Because I decided my new sewing skills would look best when used in conjunction with my favorite supplies. Who wants to stitch together a shirt when you can stitch a piece of handmade stationery? Not me. [Twisted, I know. But someday I'll try the shirt too :) ]
So, I thought I'd share one of my latest projects – to help you see just how easy it is to combine the world of sewing with the world of paper. Using a sewing machine adds a great handmade touch and really personalizes things.
Okay, here we go: The Yo-Yo Card
You'll need some colorful fabric, scissors, a blank card, a needle and thread and of COURSE a sewing machine.
I'm always looking for fun ways to incorporate fabric into cards [see a brilliant – and easy! – way to make a quilted fabric note card here, from the MADE blog]. I've seen these cute fabric yo-yos popping up all over etsy and the blogosphere, and thought "those would look great on a card!"
To make a yo-yo, cut a circle out of any fabric. By hand, make a running stitch around the edge of the circle and then pull the string till the circle bunches together; sew a few stitches in the middle to keep it together.
It should look like this when you're done: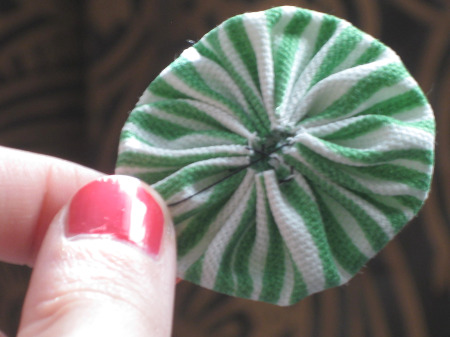 Next, get your paper supplies out. I took a pre-cut, blank cardstock card and sliced out a smaller piece of sturdy green paper to use as my canvas.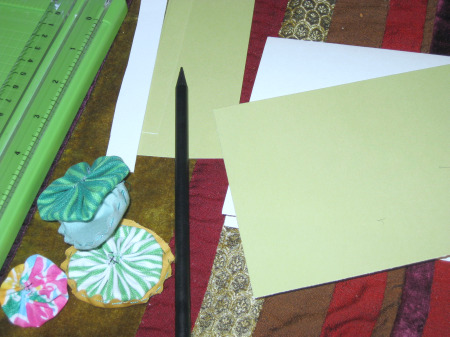 Now's the fun part: get your sewing machine ready! I wanted to stitch stems and grass for my little yo-yo flowers, so I picked a bright green thread. I lined up where I wanted my yo-yos to be on the canvas paper, and then used my sewing machine to make a straight stitch for each flower.
I looove all the various stitches to choose from on sewing machines. Out of my 25 different stitches, one really reminded me of grass – and inspired the card. I changed the stitch setting and used the "grass" stitch to go straight across the bottom of the canvas paper. You don't have to have this same stitch on your machine; I think even a zigzag stitch would look cute for grass.
My green canvas paper looked like this once I finished stitching:
Next, attach the yo-yos – I hand-stitched each one in place a few times and then used brads for the centers. I added a little paper border at the top, with a handwritten "hello" tag. I used double-sided sticky tape to attach my green paper to the front of the card – and voila! A sewing machine note card!
Sewing machines work great on cards or scrapbook pages as borders, accents or even part of the design like my yo-yo card. With so many fun fabrics and thread colors out there, any paper project can be spiced up with a little stitching! Try it the next time you work on a note card – you'll be surprised how seamlessly [ha!] the two craft worlds combine.
Lyndsey Wells is the paper fiend behind the stationery place, showcasing a daily dose of beautiful stationery, DIY paper crafts and inspirational designers — but in real life, her day job is doing marketing for a scrapbook company. Lyndsey just moved from sunny Los Angeles to gorgeous Utah, and is still trying to adjust to the new lifestyle while her husband attends business school. She loves dessert, all things social media [follow her on twitter here] and curling up with a good book or movie.