I use my slow-cooker several times a week, and this slow-cooker roasted vegetable lasagna is perfect for a simple dinner idea. I'm always cooking up a double batch of beans or making chicken. I haven't made many casserole-type recipes in my slow-cooker, but I was intrigued when I saw a recipe for slow-cooker lasagna in a favorite catalog. I was totally willing to give it a try with the veggies I received in my CSA.
Slow-Cooker Roasted Vegetable Lasagna
It may seem like overkill to roast the vegetables just to cook them in the slow-cooker. But I promise you, it's not. The flavor is fantastic, not to mention a lot of excess water evaporates in the oven from the zucchini and eggplant.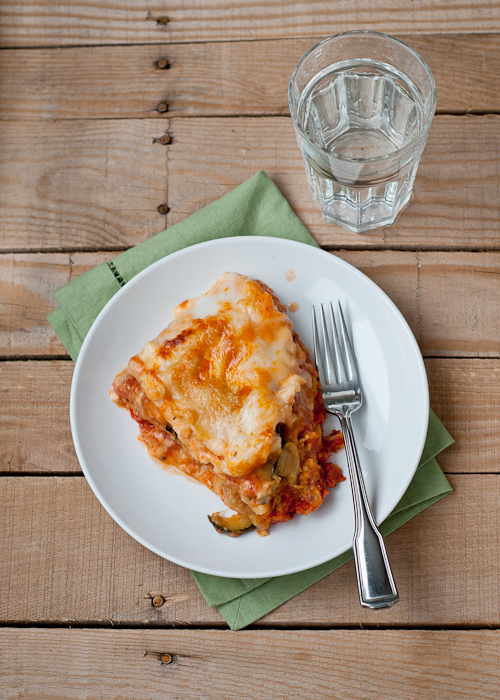 I ended up deciding to modify my favorite Lasagna Bolognese recipe. The idea of a creamy bechamel sauce and roasted vegetables was too irresistible not to try in the slow-cooker version.
The verdict?  It was great!  My kids even seemed to enjoy this veggie-loaded version.  The only thing I would do differently next time is to be very careful not to let it overcook.  I let it go about 30 minutes longer than I intended, so the noodles were slightly softer than we normally like.
Slow-Cooker Roasted Vegetable Lasagna
adapted from Williams-Sonoma and this recipe
Ingredients:
For roasted vegetables:
oil
salt and pepper
1 medium zucchini, cut into 1/4″ rounds
2 small or 1 large eggplant, cut into 1/4″ rounds
2 red, orange, purple or yellow bell peppers, cut crosswise into 1/4″ slices
For marinara sauce:
1 Tbsp. olive oil
1 medium onion, finely chopped
2 large or 4 small carrots, finely chopped
2 medium celery stalks, finely chopped
2 14 oz. cans diced or whole tomatoes with juice, pureed in a blender
or food processor
1 14 oz. can tomato sauce plus 1/2 can of water
For bechamel:
1/4 cup butter
1/4 cup all-purpose flour
4 cups whole or 2% milk
1/2 tsp. salt
For noodles and cheese:
1 package lasagna noodles
1 lb. mozzarella, shredded
Method:
Preheat oven to 400 degrees F. Line two baking sheets with the sliced veggies and drizzle with a little oil and sprinkle with salt and pepper. Roast for 20-30 minutes. The zucchini will take a little longer. Set aside until ready to use.
For marinara sauce:
Heat a little oil in a 4 quart pot. Add the onion, carrots and celery. Saute until they start to soften. Add the pureed tomatoes and tomato sauce. Lower heat and allow to simmer for 20-30 minutes while veggies are roasting. Set aside until ready to assemble lasagna.
For bechamel:
In a medium saucepan over medium-high heat, melt butter. When foaming subsides, add the flour and cook, stirring constantly for one minute. Whisk in the milk. Let sauce come to a simmer. Add the salt and cook, stirring occasionally, until thickened, about 5-10 minutes. Set aside until ready to assemble lasagna.
For assembly:
Layer this way:
about 1/2 cup sauce on bottom of slow cooker
3-4 noodles, broken to fit as needed
vegetables in a single layer
another 1 1/2 cups tomato sauce
heaping 1/2 cup bechamel
1/5 of the shredded cheese
Repeat 3 times. (I did eggplant, zucchini, peppers, zucchini)
After you place the last layer of noodles, spread the remaining bechamel over the top and sprinkle with remaining cheese.
Place in slow cooker base and cook on low for 3-4 hours or high for 1 1/2 to 2 hours. Let rest for about 20 minutes before serving.
*Note: I have an oven-safe slow-cooker, so I was able to place my lasagna under the broiler in my oven to brown the top more like traditional lasagna. You don't have to do that, but I thought it
looked pretty. :)
Makes enough for 8-10 servings (or more!)