I've been cooking up some homemade chicken noodle soup for a friend of mine who recently had a baby. To give her soup a little extra love, I thought I'd stitch up a fun handmade jar topper. These toppers are quick to stitch up and add that something special to your favorite soup.
Supplies for Handmade Jar Toppers:
embroidery fabric – muslin, 1/4 of a yard
embroidery hoop
pencil
cross-stitch needle
embroidery floss, any color
scissors
mason jars, any size
1. Cut your square of muslin fabric enough that the fabric hangs off the edge a little. You can give it a test and see where your letters should land to be seen through the lid. My pieces were 4×4 inches.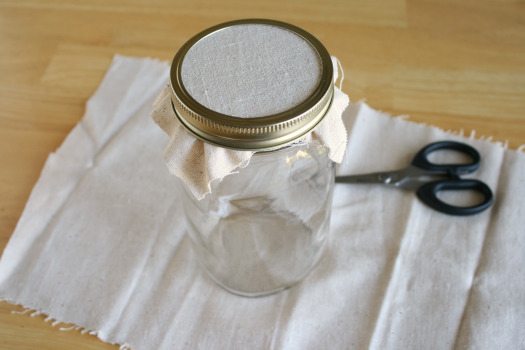 2. Add your embroidery hoop to your fabric. If you don't have one of these, you can do this by just holding it tight in your hand, but the hoop makes it a lot easier. I suggest you buy one at the local crafts store, they are pretty cheap.
3. Pencil in your text and design. I don't have a pattern to print out for this, as you can simply write what ever you'd like. But since I was giving soup, I thought the phrase, "Soup's On" sounded fun.
4. Thread your cross-stitch needle with embroidery floss and tie a knot at one end. I like to use all 6 strands of the floss to give it a bold look, but you are welcome to take off a few strands.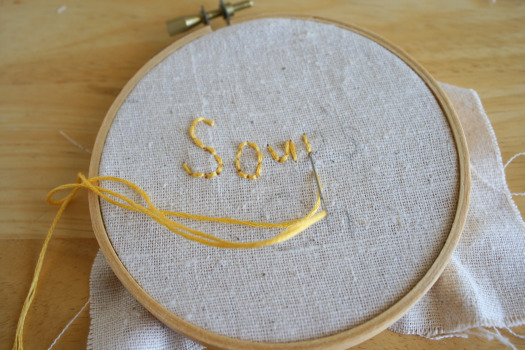 5. Stitch your floss over your letters. I also added a fun flower at the top of the words to give it a finished look. You could add any image you wanted. Then take the hoop off of your fabric.
6. Pour your soup into the jar. Then place on the first part of the lid and add your stitched piece to the jar, securing the outer lid ring to the outside.
Now fill your jar with whatever you're able to give. It could be soup, candy, cookie mix, you name it. Then it's ready to be given to a neighbor or friend in need!