It's springtime, the birds are chirping and starting to build nests and we love to watch it all happen. So we're helping them out by making this super pretty Spring Bird Nesting Mobile Using Yarn Scraps for your garden. Maybe, just maybe, they'll use our scrappy yarn nest to become their home this spring!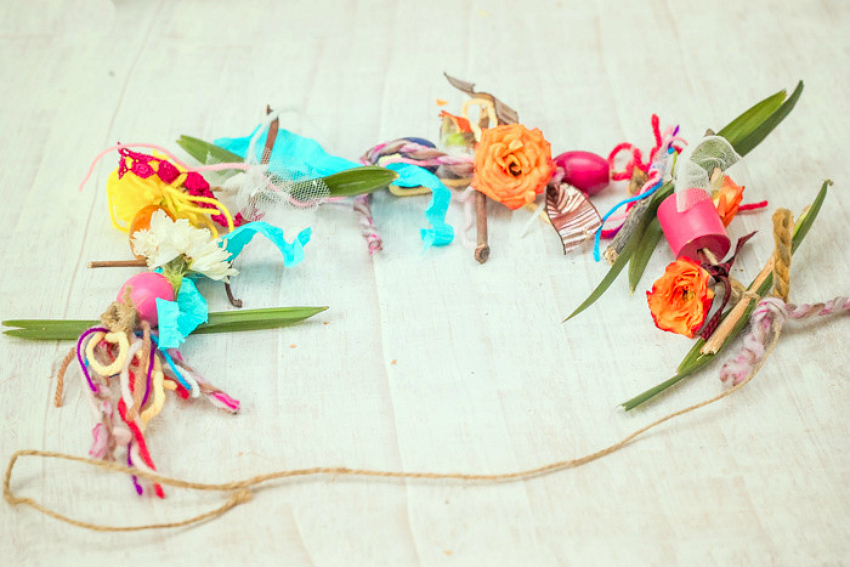 Spring Bird Nesting Mobile
One of my favorite signs of spring is seeing birds fly by, busy building their nests. Offering nesting materials to birds is an easy way to attract bird families to your yard in spring, and a simple mobile made with scraps is an easy and inexpensive project to help them out. With this colorful offering, you will even have a chance to track which birds select the nesting material that you so lovingly put up.
NOTE: According to The Humane Society it is safe for you to put out yarn or string to help the birds build their nest BUT you must make sure the yarn is somewhere between 4 to 8 inches long.
Supplies:
Twine or jute rope
Beads
Paper scraps
Ribbons
Fresh flowers
Dried flowers
Dry leaves
Lots and lots of Yarn scraps
Scissors
Instructions:
Start by adding a knot to a thick twine or jute rope. We made ours about a foot long. The key is to make sure it is strong enough to hold the weight of all the materials that we are going to tie to it.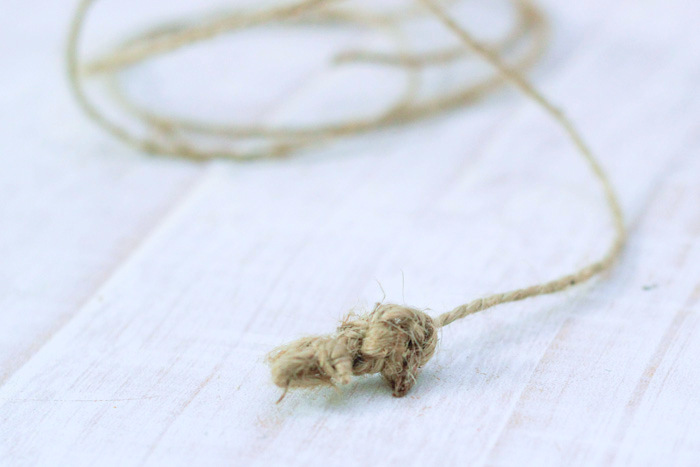 Start at the bottom of the rope. We tied the twigs, flowers, and leaves first. Add wooden beads between each stick about 3 inches apart. This will add some weight to the mobile so that the breeze will not blow it away. So twigs & leaves, followed by a bead, 3 inch gap, and twigs and a bead again.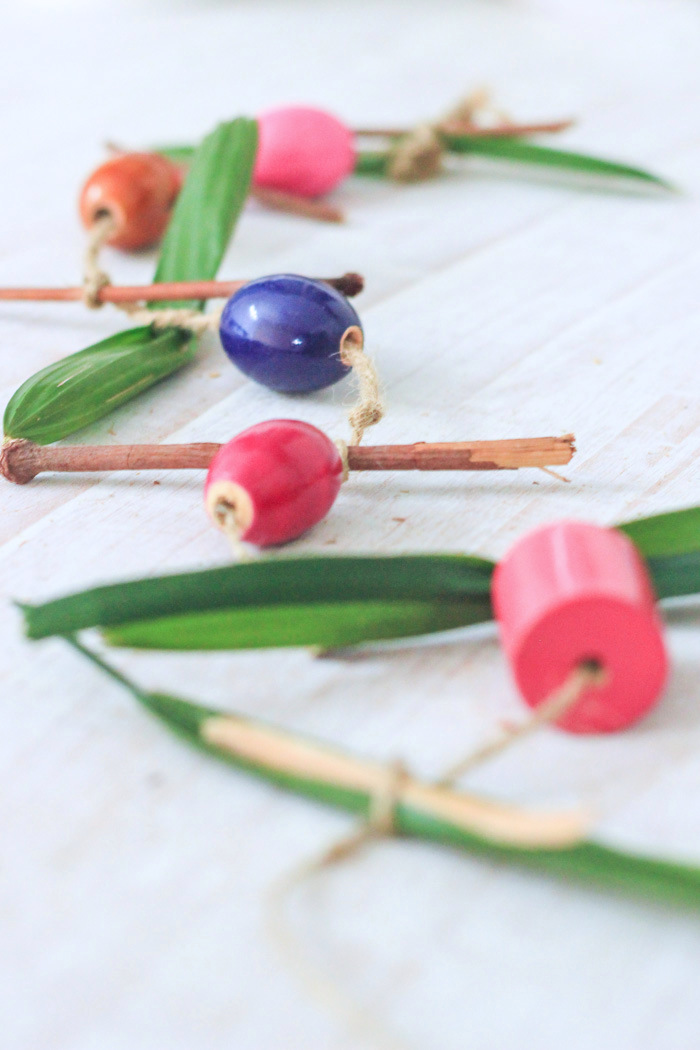 Next add the dried & fresh flowers to give your mobile a Spring look. We just used the twine to tie a knot around the flower's stem.
Next step is to use up all the wool and yarn scraps from various projects.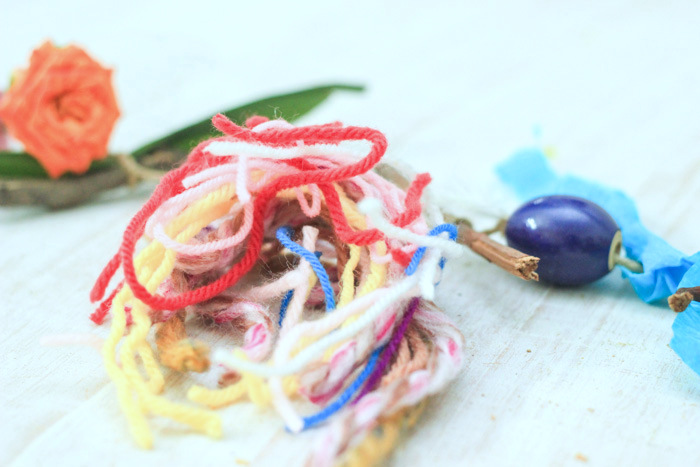 In the space between each bead, tie your ribbon scraps, cloth scraps, woollen pieces, yarn, all loosely around the twine. A bird should easily be able to pull it through. Don't worry about securing them.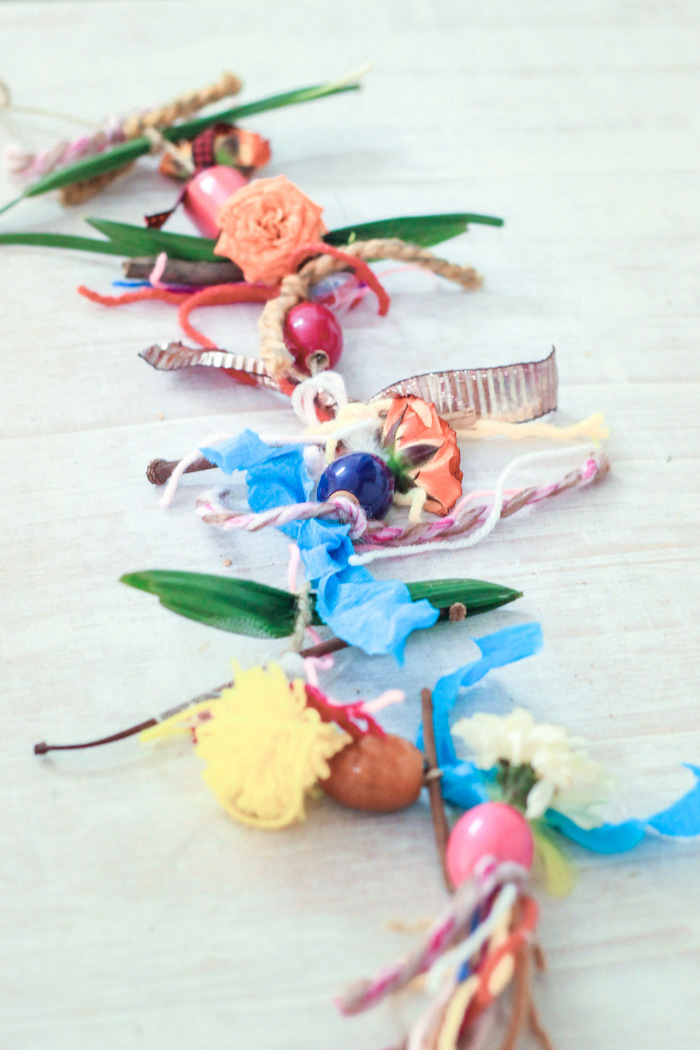 And voila! your mobile is ready. The birds use the yarn as nesting material along with natural materials such as twigs, mud, hair, dry leaves, bark, moss, and more.
Pin this post for later: