When I found this fun site, Use Real Butter, I was immediately hooked just from the words "real butter"! Then she did a post on Basic Rice Crispies, but with a fun colorful twist, Add Sprinkles. The Sprinkles make it look like a party's going on inside the treat. I'm a big fan of sprinkles as a topping for my ice cream and donuts, so they're a perfect match for my Crispy treats too.
Our treats never make it to the pan for cutting into squares. When I was little, it got plopped onto some wax paper, hot and yummy, then devoured in seconds. We even lick the stir spoon!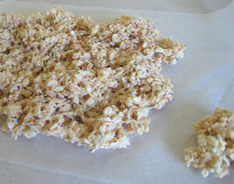 Here is another fun way to use Rice Crispies. Try this giant Rice Crispie's Cake in place of a traditional one.
Or delicious Rice Crispy Cookies. These are the kind with no marshmallows, but lots of yummy chocolate frosting on top!