I love fruit. I love fruit salad. I LOVE when I go to a potluck or a BBQ and there's a giant bowl of fruit salad calling to me. But it can get kind of boring, right? Melon, grapes and strawberries. Maybe some chunks of pineapple. Let me help you be the Queen of the Party with a few simple tricks to spruce up your fruit salad.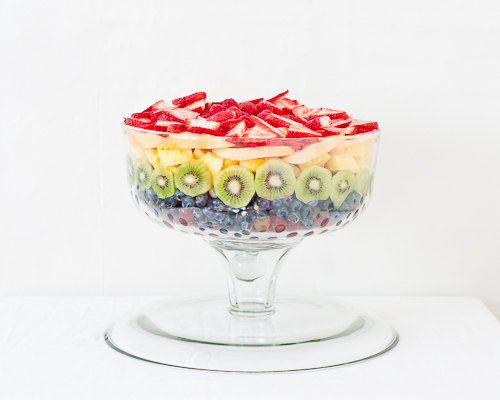 Spruce Up Your Potluck Fruit Salad
Layer the salad and make it extra pretty.  My kids went wild over the rainbow fruit salad pictured above.  (Strawberries, raspberries, cantaloupe, pineapple, kiwi and green grapes, blueberries, purple grapes.)
This probably goes without saying, but use fruit that's in season whenever possible.  Certain fruits are available all year long, but when they're in season they taste better.  Use more citrus in the winter and berries in the summer.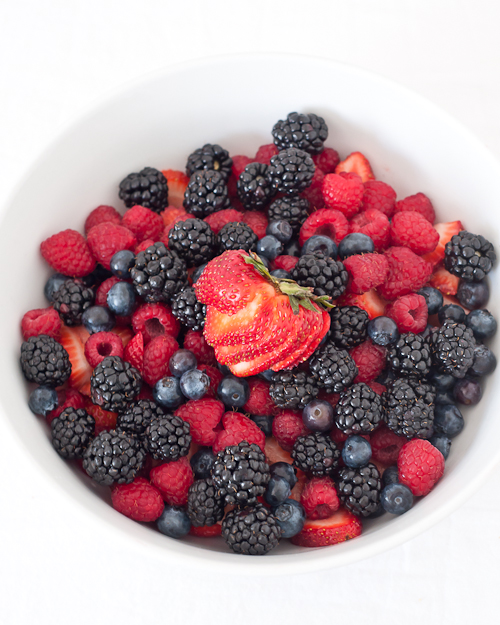 Add some tropical fruits–for a punch of color and interesting flavor–lychees, mango, dragon fruit, kiwi, etc.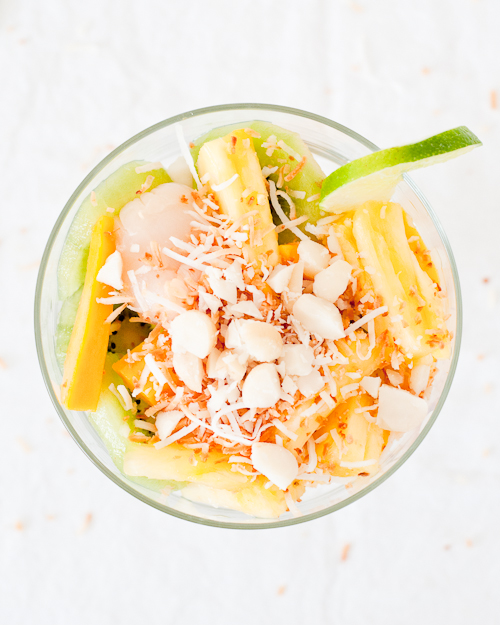 Sprinkle the salad with a bit of toasted coconut and/or some chopped nuts.  This one has macadamia nuts and coconut on top of Atulfo mangoes, pineapple, lychees, and kiwi, with a squeeze of fresh lime juice.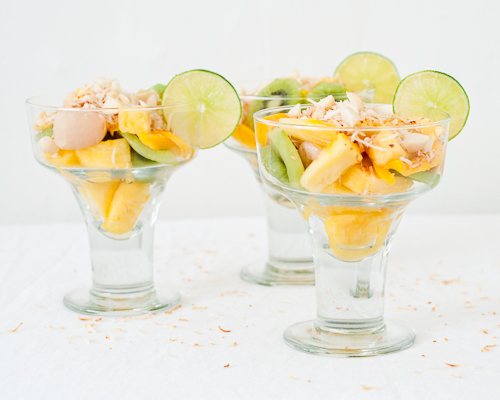 More quick tips for fruit salad:
Squeeze the juice of 1-2 fresh lemons or limes (depending on how big your salad is) along with the sprinkle of a little sugar or your sweetener of choice.  Honey and lime is one of my favorites.
Sprinkle 1 tsp. vanilla and/or almond extract over the fruit and toss.
Add thinly sliced, chopped, or minced fresh herbs–mint, basil, thyme and rosemary go particularly well with fruit, especially melon, berries, peaches and nectarines.
Sprinkle with a little cinnamon or nutmeg–especially good with peaches and other stone fruits.  What about an Indian Watermelon Salad?
Turn the salad into skewers–eliminates the need for a bowl or spoon and a lot more fun
Toss with a quick sweet vinaigrette made from champagne or white wine vinegar, oil (use one that doesn't have a strong flavor), a little sugar and salt.  Serve on top of tender lettuce leaves.
Toss with a creamy vinaigrette, like homemade or store-bought poppy seed.
Add avocado to a salad–particularly good with grapefruit and orange, or strawberries.
Try grilling the fruit.  Watermelon, peaches, pears, and pineapple are great on the grill.
Edible fruit bowls make fruit salads extra fun–like this watermelon basket or a pineapple boat.
What is your favorite fruit salad?