I bet you can guess what we're stamping for St. Patrick's Day! Yep, rainbows and shamrocks. With rainbow colors and recycled paper tubes, it's a colorful day for this lucky holiday and paper tube stamping.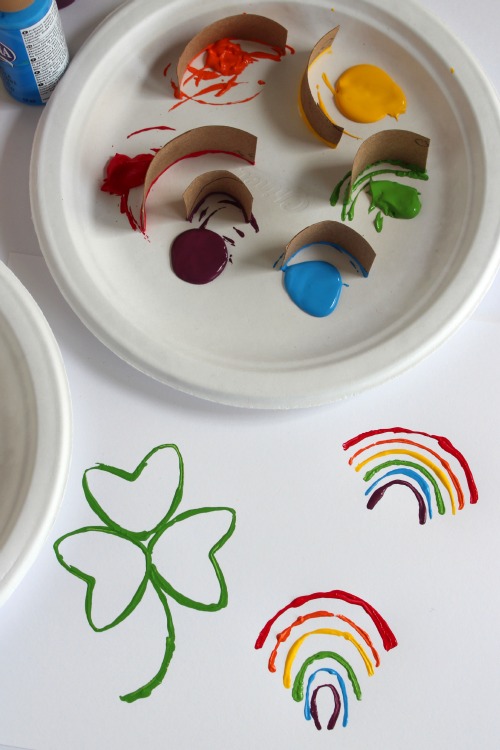 St. Patrick's Day Paper Tube Stamping
We've got our paper tube stamp supplies out once again and we're ready to go. We've stamped hearts, snowmen, and trees. Now we've got some fun rainbows and shamrocks to have some fun with.
Rainbow and Shamrock Paper Tube Stamps
Kids will love to get out the DIY supplies for this simple crafty project! Have fun as you paint and stamp your way across the rainbow. Let's get stamping!
Supplies:
paint in rainbow colors

paper towel tube
scissors
paper
paper plate
To Make Shamrocks:
1. Pour your green paint onto your paper plate.
2. Cut a 2 inch section off your paper tube. Form it into a heart shape.
3. Dip one side into the green paint and stamp it onto your paper.
4. Make 3 or 4 more for a 3 leaf clover or a 4 leaf clover.
5. Cut a small paper tube piece in half, dip it in green paint, and stamp it on the paper under the shamrock to make the stem.
To Make Rainbows:
1. Cut your paper tubes in small sections about 1-2 inches in width. Cut them again in half to make them into semi-circles. You can cut them to lay on top of each other or make them all the same size. Depends on what you'd like your rainbow to look like.
2. Pour the rainbow paint colors onto a paper plate.
3. Take your cut paper tubes and dip each one into a different color.
4. Stamp them in a rainbow order onto your paper.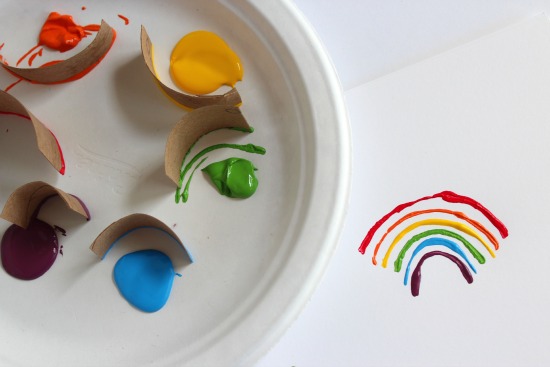 With a little luck, hopefully you'll find a little gold at the end of your paint stamped rainbow!
*Originally posted 3/8/13