My son turned 6 last week and we celebrated with a Star Wars party.  He eats, sleeps, and plays Star Wars, so it was no surprise he chose this as the party theme. I'm sharing details for Star Wars birthday party ideas, what games we played and the food we ate, as well as ideas for crafts. So many great ways to celebrate your child with Star Wars!
Star Wars Birthday Party Ideas
Invitations
My son and I came up with the words for the invitation, he knows the Star Wars lines better than me. We printed and folded them into cards, adding a couple of stickers to the front, and delivered them to friends.
Invited You Are… on a Galactic adventure… with (Child name) On Saturday, January 17th, You'll take part in your Jedi Training. Your mission will be to rescue and protect Princess Leia, as she has been taken prisoner by Darth Vader.After Galactic Pizza and Yoda Sodas, we'll be fighting to destroy Darth Vader & the Death Star, using your Jedi force powers.Please bring your Jedi lightsaber to aid you in your mission. Then after sufficient training, you will be awarded with your official Jedi Robe. May the force be with you!
Official Jedi Robe
Each child was awarded a Jedi robe when they entered the rebel ship (house). I made 7 of these, yes 7! You could make these using a robe pattern, but I found an easy to follow Jedi Robe guide to use when cutting and sewing, and it worked great. That website has measurements for adults, so for kids: each robe use 2 yards of brown cotton fabric. I had my kids lay down on the folded fabric and cut their outline, like the instructions say, then added a hood.
Food
Galactic pizza – just plain ol' pizza, but given a super cool Jedi name!
Yoda Sodas – I found this idea listed on lots of different party idea sites (some listed below). You mix Lime Sherbet with Sprite. It was a big hit!
Games
Pin the Lightsaber on a Jedi – I found this $5 poster and taped it to the wall. Then I made these little mini paper lightsabers for each child. They pick the color and then match it to who it might go to, while wearing a Clone Wars Storm Trooper mask (found at a party store).
Destroy the Death Star – I bought a soccer ball pinata and painted the white squares gray. Then once it was dry, filled it with candy. Then on party day, the kids hit it with their lightsabers. (Even though the lightsabers were fun to hit with, they're not hard enough to open the pinata. So after a try or two with the lightsabers, use something harder).
Fighting Darth Vader – Darth Vader made an appearance, but the young Jedi's prevailed.
Party Bags
I sent the kids on a treasure hunt to find their gift bags… a Jedi Mission! Included in the bags were glow necklaces, Star Wars stickers, Clone Wars paper masks (from the party store), and some licorice (looks like a red lightsabers!)
Or make these fun handmade party favors:
Lightsaber Cake
Cupcakes are just too easy, so I lined them all up like a lightsaber.
Party-Time Filler
Watch a 20 minute episode of Star Wars Rebels or a Clone Wars cartoons while you wait for everyone to come or as parents come to pick them their galactic heroes!
More Star Wars birthday party ideas: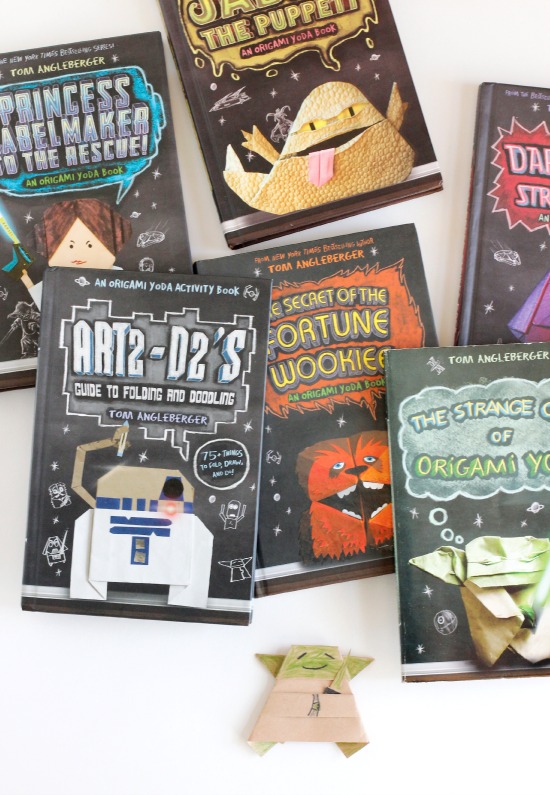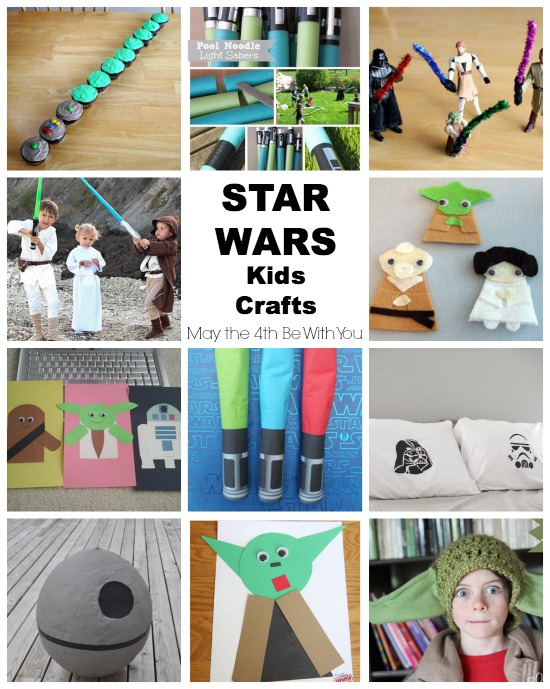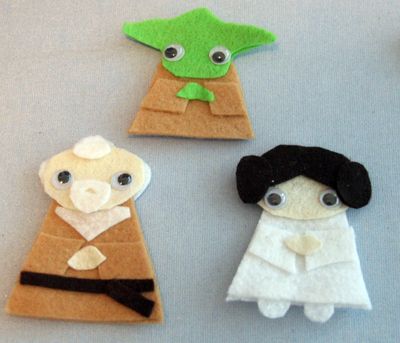 Hopefully some of these will help for your next Star Wars birthday party ideas!