This crazy looking plant is called Rhubarb. It's actually a vegetable and has a sweet tart taste, making it a perfect ingredient for pies and cakes. My Mom has two of these giant plants in her yard and now is the time to harvest them. Only the red stems are edible, the leafy tops are actually poisonous, so throw the tops in the compost pile. If you don't have this crazy plant growing in your yard, you can get it from most local grocery stores. It will come with just stems and is now in season, so stock up.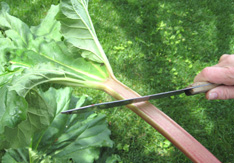 My Mom has been making this delicious Strawberry Rhubarb Crumb Cake for years and it's still one of my very favorite desserts. With a cakey bottom, strawberry/rhubarb filling, more cake drops on top, and a sugary crumb topping, it's the perfect start for summer desserts.
Strawberry Rhubarb Crumb Cake Recipe
For the Cake:
3 cup flour
1 cup sugar
1 t. salt
1 t. baking powder
1 t. soda
2 cubes (or 1 cup) butter/margarine, softened
In large bowl, sift dry ingredients together. Add margarine, cut to fine crumbs.
In a separate bowl, mix together:
2 cups buttermilk
2 eggs, slightly beaten
1 t. vanilla
Beat liquids together and add to dry ingredients. Spread 1/2 batter in greased 9 x 13″ pan or dish. Add filling then spoon remaining batter in small mounds atop filling.
For the Filling:
In saucepan combine 3 cups fresh or 1 – 13 oz. pkg. frozen unsweetened rhubarb (cut in 1/2 pieces, and 1 – 16 oz frozen sliced strawberries thawed, or 2 cups fresh strawberries, sliced.
On low heat, cook fruit covered about 5 min. Add 2 T lemon juice. Combine 1 cup sugar and 1/3 cup cornstarch. Add to rhubarb mixture. Cook and stir 4 – 5 min. until thickened and bubbly. Cool before spreading on batter.
Spread cooled rhubarb filling over the bottom batter in pan.
For the Topping:
3/4 c. sugar, 1/2 cup flour, 1/4 cup margarine.
Combine sugar, flour; cut in margarine as before, to fine crumbs over batter in pan.
Sprinkle sugar crumbs topping over batter in pan.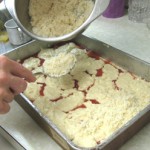 Bake at 350 degrees for 40 min. Cool slightly. Serve with scoop of vanilla ice cream and devour!
Here is a great site talking all about Rhubarb. There are lots of recipes and other uses for Rhubarb. What recipes have you made? My Mom still has tons of stalks in the backyard and we're looking for some different recipes to use it with.