This week I have discovered that the fabric "tulle" feels weird. I am making a ballerina type tutu for my daughter. She is only 18 months, but I am too excited about girl things that I am starting early. She tries all of her brother's costumes on, so I figured she was ready for her own. Well, she will not put it on. I tried and tried and I have come to realize that it must feel funny to her.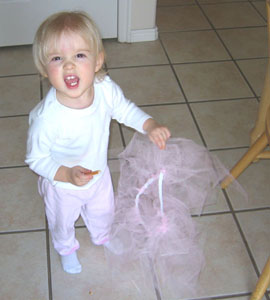 I showed it to her and she was intrigued at first, but as soon as it got to her belly, she was fussing and trying to pull it off immediately. I have decided that everyday we will have a try it on again and see how it goes, and finally she will humor me and put it on, probably saying under her breath "this is why I will go to therapy when I grow up." Tulle is used for bridal veils, dancers, and many other things, so I am hopeful that one day my daughter will love to be showered in it. I guess I will have to wait.
Maybe you will have better luck with this Tulle TuTu. Here is a picture of it with pink tulle. I have seen this idea before so I can't claim it as my own.
How to make the Pink Tulle TuTu:
Buy 3 yards of pink tulle from a fabric store and some white sewing elastic ¾ inch wide. You may also want to buy a silk flower for the elastic seam to give it a finishing touch (see my finished product). First I measured around my daughter's tummy for the elastic, 12 inches, and sewed the two ends together to make a circle. Then with the tulle, I kept it folded in half and cut it into 2 inch wide strips.
Then I cut at the fold mark to make the strips doubled, (does any of this make sense?). There were close to 90 strips when I was done. You can cut the strips into thirds if you want, but it will be a shorter tutu. Then take a strip and place it around the elastic circle and tie a knot pretty tight around it. Then continue for all 90 strips. It gets pretty puffy. Then hopefully you have covered your elastic with all the knotted tulle and no more is showing. You can also buy any color of tulle fabric or even make a pattern with two different kinds of tulle alternating. Instead of using elastic for the waistline, you can tie the strips around a long piece of ribbon and then use the ends to tie it up and make a bow. What girl doesn't love to be even more of a princess with ribbons?
Now you are done. Simply slip the tutu over her head or let her step through the hole. She will feel pretty and fancy. The cool thing about this kind of a tutu is that it is tear free. Some tulle tutus that are out there tend to tear and will then have a big hole in it. This way, there is no tearing and it is a fun new fluffy skirt. But there is a warning- this tutu may feel weird!