As soon as March hits, I'm dreaming of spring – warmer days, green grass, and flowers! This tortilla pinwheel flower is so easy to make – no special culinary superpowers required! Toddlers and preschoolers can help you prepare this for breakfast, lunch, or snack.
I don't make cutesy food all that often, but when I do, my 3-year-old sure does love it! Like many kids his age, he's been in a bit of an eating rut lately. Preparing food with me, and making a fun shape, seems to encourage him to sample a wider variety of foods.
Tortilla Pinwheel Flower
A cute and yummy meal or snack that kids can help prepare
Flower: 1 flour tortilla, cream cheese, and jam (or your choice of filling)
Flower center: blueberries, cherry tomato, stack of sliced bananas, etc.
Stem: cucumber spear
Leaves: kiwi or cucumber slices (halved) or baby spinach leaves
Before I invite my 3-year-old to come and help me prepare a meal, I like to do all the chopping and slicing prep work. His attention span is not all that long, and I know he will want to spend just a few minutes playing with the food before eating. So, prep your chosen fruits and veggies for the stem, leaves, and flower center first.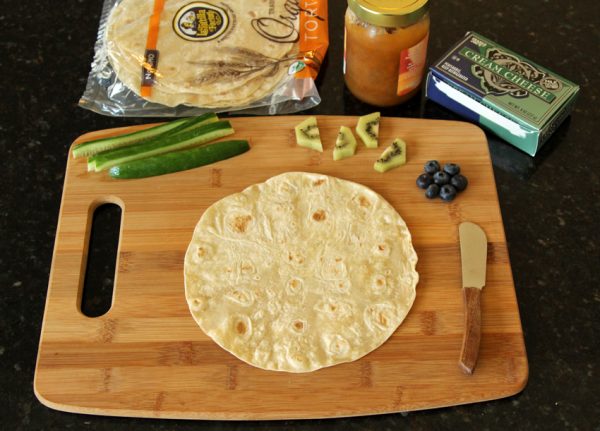 Spread the cream cheese and jelly on the tortilla. This is a teamwork job for me and my little guy – he loves to spread, and then I just finish up the spots he missed. Roll-up the tortilla tightly.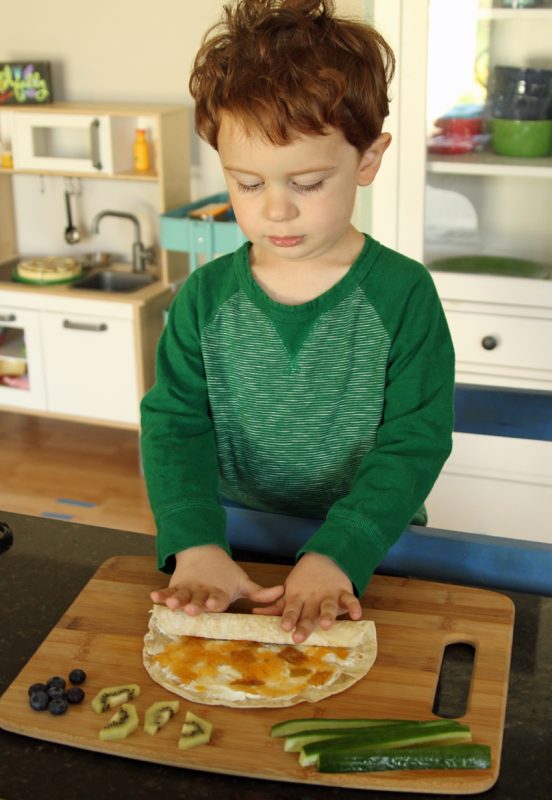 Slice the tortilla roll-up into rounds. Some jam might ooze out, but that's ok!
On your plate, arrange the blueberries for the flower center, then add the tortilla pinwheels around them for the flower petals. Add your cucumber stem and fruit or veggie leaves, and admire your beautiful edible flower!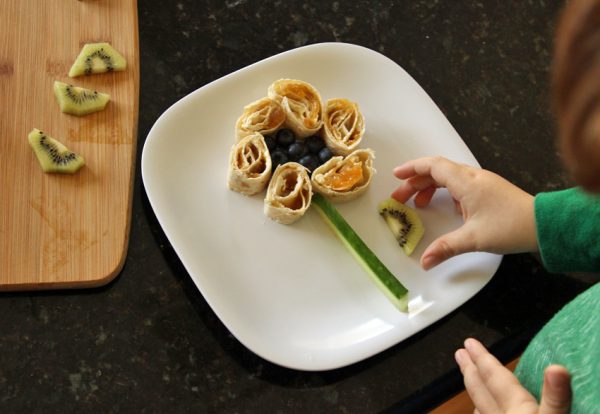 Henry was asking, "Can I eat it now?" pretty much the whole time we were cooking together. He was happy to finally dig in and enjoy!
Since tortilla roll-ups with various fillings are standard fare for breakfast or lunch around here, I have a feeling we will be making lots of tortilla pinwheel flowers this spring. Yum!
More tortilla fun: