Football season has begun! We're making yummy football treats and tossing around soft football toys. These will hopefully be a little softer and easier on your household items as they get tossed around while you watch the game!
Supplies for Sewing Football Toys:
fabric – I used a flannel football fabric
football pattern – 8in x 3in, with points at both ends
scissors
sewing machine
stuffing – fiber fill or polyester filling
sewing needle and thread
white embroidery floss
Sew Your Own Soft Football Toy:
1. Cut out a paper pattern of your football piece. Cut out 4 of these shapes with your fabric. I folded my fabric twice and cut all 4 pieces out at once.
You can pin down your pattern to the fabric to cut or just hold it in place.
2. Sew 2 of your pieces together, with 1/4 inch from the edge. Do this to the other 2 pieces as well. You'll now have 2 sewn pieces.
3. Open them both up and pin them together.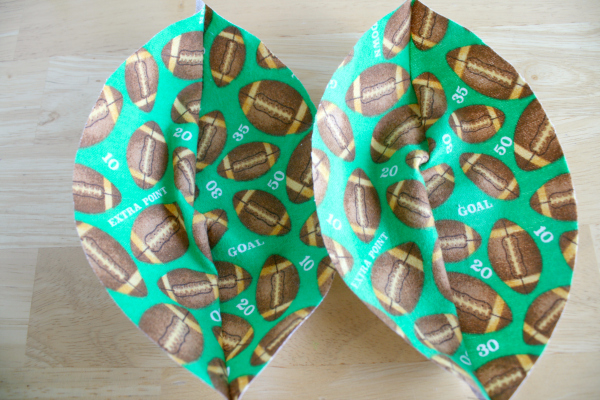 Then sew them around. Leave a 2 inch space on one edge so you can turn it inside out and stuff it.
4. Turn the football back to the right side out. Stuff your football with A LOT of stuffing. More than you think can fit inside of there.
5. Once your football is filled all the way, you need to stitch up your hole. I take a matching thread with a needle, tie a knot at one end and loop around your opening, stitching them together. Then tie off the knot and cut the end. This stitch up doesn't have to be pretty, the kids won't notice how it looks.
6. Using your white embroidery floss and a needle, stitch the lacing to one side of your football. I stitched my long vertical line first, then stitched 4 laces across. Then tie it off with a knot and cut the end of the floss.
Now it's ready to toss around. Have fun with football this season!