If we weren't headed to the beach or on our way to Disneyland, I probably would never travel far with kids. It can be stressful and overwhelming, but with a little planning, car rides can be fun. Here's a few tips to ease your traveling woes.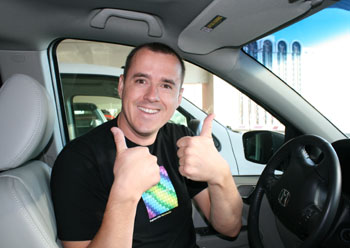 Snacks – In the past we've hit the gas station right before and loaded up on junk food. Although it's yummy and delicious, I now try to pack some snacks made at home instead. This also saves on time so we don't make an extra food stops in between meals. Also, have a garbage sack at the ready for wrappers and fruit peels to keep the car fairly clean. I like to have a garbage bag reachable for each child.
PB&J's are great to make ahead of time and store in plastic bags. Avoid sandwiches with mayonnaise unless you plan to bring a cooler.
Wash & dry fruit and veggies ready to eat
Drinks – I like to give each child their own water bottle that I freeze before we leave. Then it melts on the way there, giving them just enough to drink every hour or so. Try to avoid juice boxes as their straws tend to leak and spill even after it's gone. Sippy cups are great too as they've got lids.
Treats – It's cheaper to buy candy from a grocery store than it is on the road at the gas station. Try to get your snacks early to save money. We love licorice.
Toys – I have a tub of toys within reach of the kids. It has a lid so it can be stored some place else when we aren't using it. Here's what's inside:
Magna doodles
Travel Aqua Doodle – love this! But have a water bottle close by to refill the pen.
5-6 picture books, we love Where's Waldo and I Spy books.
Sticker books – the large Costco ones are great
Action Figures
Stuffed animal & Blankey
Music – Bring tapes or CDs of your kids favorite music. It's ideal if you have a portable CD player, then the whole car doesn't have to hear the latest Disney sensation playing over and over again. But if not, try to give the kids a turn with their music in between the chapters of your book on tape!
– We've also love Satellite radio. We have XM radio and it's fun for us as well as the kids. They have a children's station that plays great kids songs and stories all day and all night.
Bathroom Breaks – We're in the middle of potty training and I know my daughter can't hold it for 12 hours! We had to go back to pull-ups for the road trip. It's not this easy for a girl!
– I've also heard it suggested to bring a large plastic container to have the child sit and "go" in. You can even line it with a plastic sack first for easy disposal. I haven't tried this but it sounds like a good idea. Just have Hand Sanitizer and wet wipes at the ready.
Extras –  If your car doesn't come with a DVD player, I highly suggest purchasing/borrowing a portable DVD player. This makes the trip fly by, keeping the kiddies entertained. I wish I'd had this when I was growing up. It would have saved my Mom from always hearing, "Are we there yet?" I really would say that about every 10 minutes.
Here's a few links with great information about traveling with kids:
What have you done to make your car rides fly by with ease?