If you're celebrating the upcoming 4th of July holiday, get out the watercolors and create a fun decoration to give your holiday party a festive look. We've done these painted plates with rainbow colors, now we're painting with red and blue to craft a fun American Flag!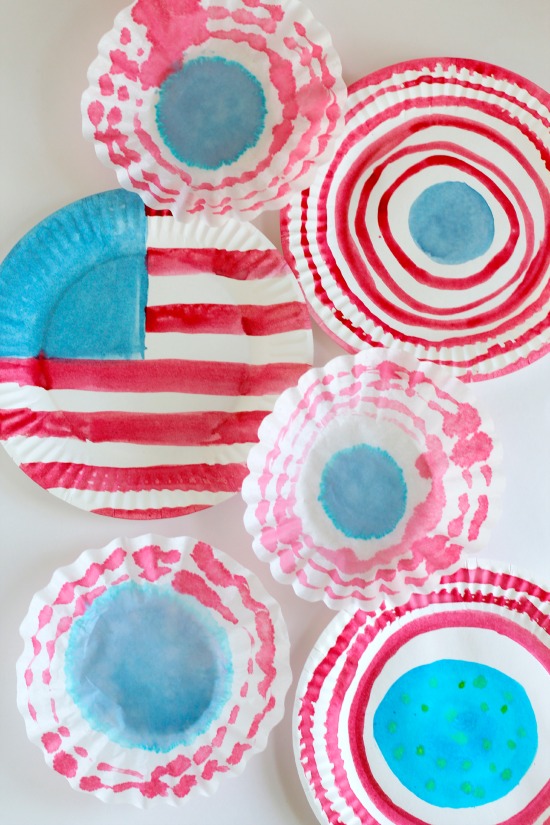 These plates are the perfect craft for a kids table or even for the adults to make and decorate on the 4th of July!
Painting 4th of July Paper Plates
Supplies:
watercolors, brush, water
paper plates
white coffee filters (optional)
newspaper or cutting board
scissors
TIP: these water color flags can be created for any color and style of flag for any other country. Have fun watercoloring flags! 
Instructions:
Set up your watercoloring station. Fill you water, set out your paints, place down either newspaper or a cutting board to control some of the water that seeps through the paper plates, especially the coffee filters.
Start painting!
There are all sorts of designs you can paint. If you're painting these for a fun craft or decoration for the 4th of July, you'll want to stick with the red and blue colors. Make sure to leave some of the area plain for the white. But how ever you paint, it will look festive and fun. NOTE: some of the colors can run and bleed through to the other colors in your line. Go easy on the water if you don't want them to mix.
Let these dry for a couple of hours and they are ready for display.
You can leave them as is or try cutting them in half for another fun decorative look.
Want more ideas for a 4th of July holiday? Have fun crafting one of these ideas below!