Oh, the beach. How do I love thee? Let me count the ways! Do you feel the same? My husband and I recently spent a week at the beach in Hawaii, Maui to be exact, taking a second honeymoon. So very relaxing and healing to sit and do nothing on the beach! Although… I did miss my little ones burying themselves in the sand! Happily, there's a fun beach little right by our house on the Puget Sound, just 5 minutes away, perfect for our Seattle summer!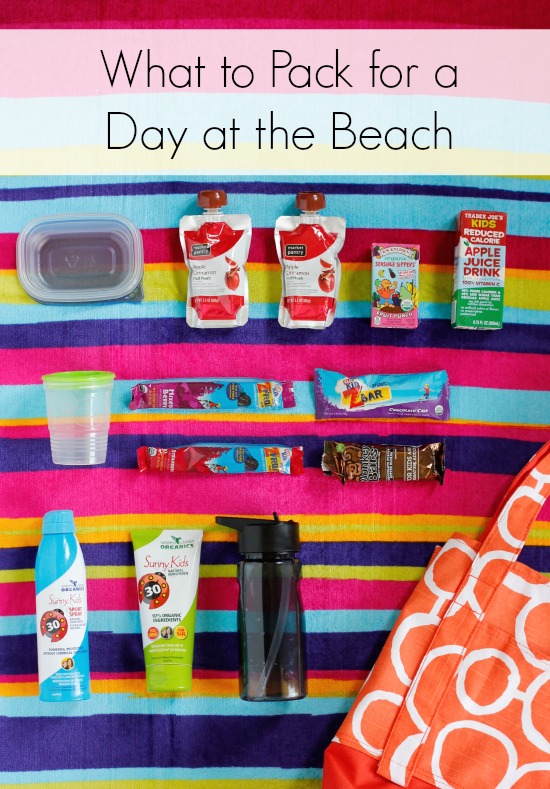 Since becoming big beach goers, I've learned a few tricks to help us make the best of our beach day! Here are my top 5 essential items to pack for a day at the beach.
5 Essentials for a Day at the Beach:
1. Drinks & Snacks: When our family hits the beach, we can't just go for a hour or two. We end up spending 3-4 hours, sometimes more, so hydration is one of the most important things to have with us. Even more water or juice than I think. My kids work up a thirst after being buried up to their neck in sand!
Same goes for snacks. Either we'll pack a lunch or just bring little snacks to eat throughout our stay. Protein bars are great to have on hand, giving kids a little more sustenance. Those peanut butter packets are great too, as well as apple sauce packets – they pack up so easily in my bag!
2. Towels: Of course you're going to have towels. In fact you could make a fun kids towel wrap or a hooded towel for the beach. But my tip for towels is to NOT use them until the end. My kids are in the water, in the sand, in the water, in the sand. By the time we're ready to go, their towel is useless if they've been wiping off all day. So now I don't let them have it – not until the end! Unless it's on their face or they need it for their hands before they eat, we save our towels for the end and it's worked out great!
3. Sunblock: We've talked about the right kind of sunblock to get for your kids, not all sunscreen is alike.We love Kinesys Sunscreen as it doesn't leave any oil on your skin or have that sunblock smell. Or Goddess Garden sunscreen, which they sent me to test out, is awesome for kids and organic. It's got everything you need to block the sun with out all the nasty ingredients. But whatever you have, make sure you use it and REAPPLY! Many sunscreen creams and sprays need to be reapplied after just a couple of hours, that's something I tend to forget. Believe me, you don't want sunburned kids the next day, not any fun!
4. Toys: Recently I've learned we don't need to bring any toys at all! Oh, maybe a shovel or two, maybe a bucket. But really, I love when my kids can scour the beach for rocks, shells, sticks, and see what they can make from what they find. Or if we bring snacks, I'll let them use the plastic reusable containers for playtime, a little recycled beach toy action! A plastic plate or a container lid can become a frisbee! Get creative without having to haul it all there with you, saving you an aching back!
5. Beach Bag: Lastly, you're going to need a great beach bag to take with you. This bag is going to be stuffed to the brim and hauled all over the sand, so you'll want something sturdy and will last more than one summer. A dear friend of mine is the owner and designer of the fabulous bag shown below, The Orange Circles by Jack Odell Designs. It's really the perfect beach bag and I'm not just saying that. It's high quality, made with a water resistant finish – just what you'd want at a beach or the pool. There's pockets galore, it will fit everything I've described above and then some. Plus, the inside lining can be pulled out and washable, getting any spilled drinks or sand at the bottom. Once you find that perfect beach bag, treat it right and it will last through all your beach trips to come!
If you pack the above 5 essentials, the whole family is going to have a successful beach day! What other items do you make sure to pack for a day at the beach?