Knuffle Bunny by Mo Willems, has recently become one of my favorite children's books. My son checked it out a few months back from his school library and it's been a family favorite ever since. It's about a little girl, Trixie, who loves her bunny "Knuffle Bunny", but loses it at the laundry mat. As she's still a toddler and trying to say real words, she "babble flabbles" trying to tell her Dad her bunny is missing. My kids laugh and laugh at Trixie's words, asking for this story to be read again and again! There's also a sequel to the first called Knuffle Bunny Too where it get's lost again!
Well, I can relate to Trixie's Dad when trying to locate my kid's stuffed animals, or "knuffle bunnies". My son has been sleeping with this dog, Honey pictured above, every night since he was 2 (he's now 6). So far, it's not too ragged, but it's getting there, as it used to bark.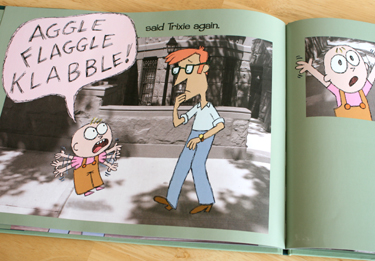 I'm sure my kids aren't the only ones with "Knuffle Bunnies". What comforting items do your kids sleep with at night?