I am a meal planner. I refuse to go grocery shopping without my week's worth of meals planned out and list made. (It's either that or wander aimlessly around the grocery store for two hours and then make ten more trips back during the week to get things I forgot.) To help me keep all my dinner meal ideas in one place, I put together this super easy wipe-off weekly menu board to keep track of what's for dinner each night!
This is a super simple method for making a to-do list or a menu for the week. You can customize it with your paper and a darling frame to match your kitchen as well! Here's how to make it…
Wipe-Off Weekly Menu Board Tutorial
Supplies:
Picture frame with glass front – found here
Piece of patterned scrapbook paper to fit in your frame (mine's also 12×12)
Dry-erase marker
Black Marker or Stickers
1. Put your patterned paper inside the frame. Replace the back. That's pretty much it. :)
2. If you wanted to stop here, you could hand-write your days of the week on the glass, or use it as a message board / to-do list. I love that these frames can stand or hang on the wall so you can do whatever works best in your space!
3. Use a paper towel or cloth to easily erase dry-erase marker off the glass.
4. If you want to get fancy and go a step further, you can add vinyl lettering for the days of the week. I cut these letters with my Silhouette machine, using Creating Keepsakes "Woodbine Swashes" font. (Try not to notice how crooked "Sunday" is. I didn't notice until after the picture was taken. Luckily, it's easy to fix!)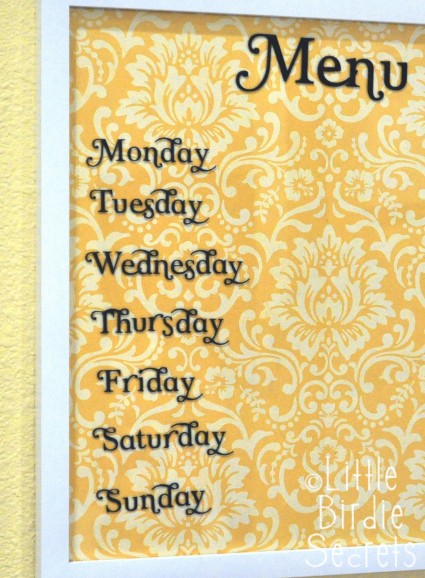 Now everyone in the family knows what's for dinner each week!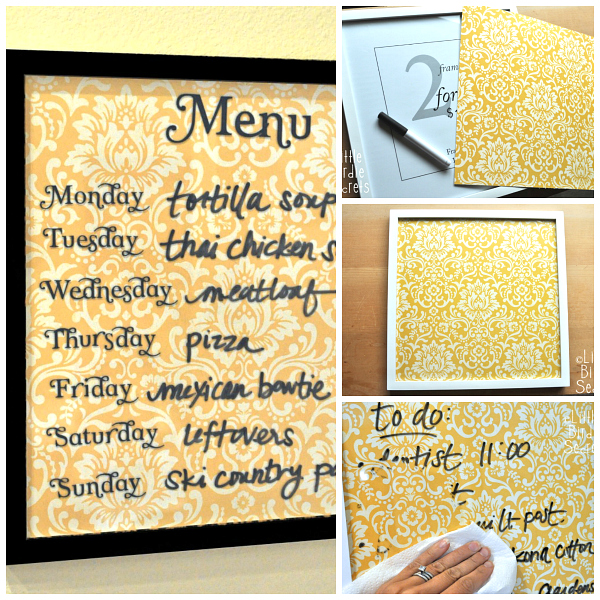 I decided my frame would look better black in my kitchen, so I spray painted it black. The best part about this project is that it is SO easy to change the paper if you decide to change your decor, or if you just get tired of it. So you'll really use it for years to come!
3 Delicious Weekly Menu Ideas:
*This post contains affiliate links. Thanks for supporting Make and Takes!