Namaste friends! For us, family yoga means a less-stressed and much happier mommy (making life much easier for the entire fam); plus better health for all. Less doctors visits and medical interventions mean less environmental impact from our family all around.
I've been basking in post-yoga sweet-savasana-bliss since the weekend. Hubs and I celebrated a belated Valentines "date" Saturday night with an AcroYoga and Thai Massage Couples Workshop: talk about a perfect heart-opening experience!
For our family, February is a blissful and busy time. Besides the festivities that accompany the 14th, both my son and my husband celebrate birthdays. I have lots of opportunities to reflect on love and life; my time as a mother, and a wife…it all seems interconnected with my journey as a yogi.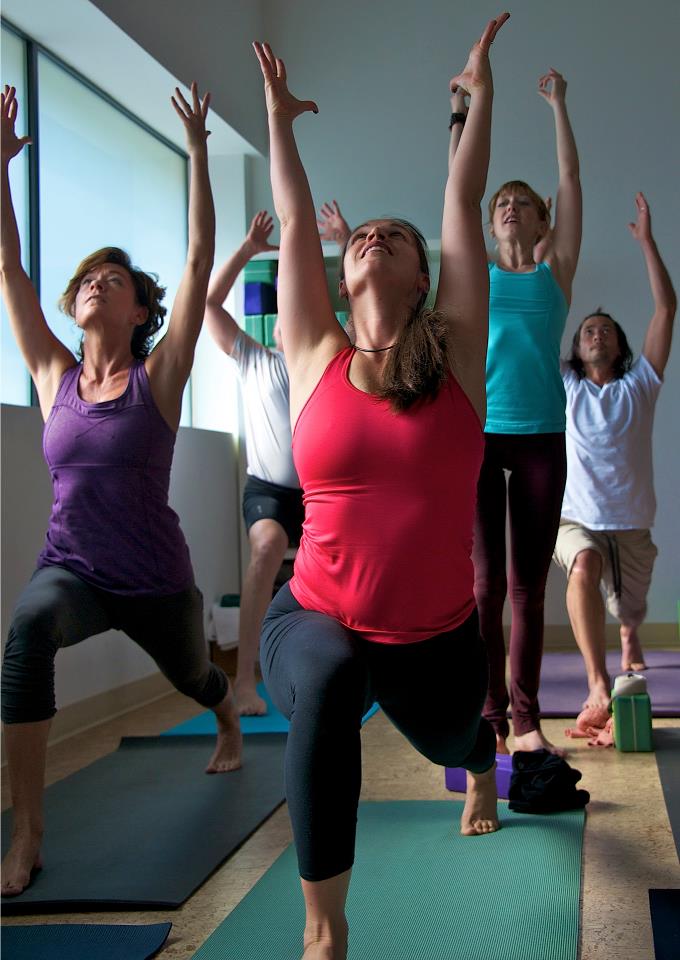 Family Yoga for a Happier Household
Years ago, I guest blogged for Make and Takes about the benefits of yoga for pregnancy. But yoga is something that the entire family can do together because like most who practice the ancient tradition know "Yoga can help reduce stress, lower blood pressure and improve heart function" (those are the Mayo Clinic's words, not mine).
Yoga improves range of motion and strength, making you less prone to injury in sports or just normal daily activities. (Think, less kinked necks or random aches and pains that "appear" to come from nowhere.) Additionally, yoga can play a role in reducing risk factors for chronic disesases, including depression, pain, anxiety and insomnia.
Brandi Allen, who created the Kids Yoga Teacher Training Program at the We Are Yoga Studio in Salt Lake City, Utah ("coincidentally" also the studio I teach at) explains that: "Yoga is beneficial to everybody, but especially children." Allen has been teaching yoga for 10 years, but also spent 14 years as a child educator, currently working at Montessori Community School in Salt Lake.
Allen says the mind-body connection of yoga can help with obesity and unhealthy eating habits in children. "[Yoga] practice makes children more aware of what they're putting in their body and how they're treating themselves."
Beyond body awareness, Allen says that the relaxation benefits for children are especially important with the stress and pressure kids are subjected to in our modern busy world.
"I see so many kids with high anxiety. If children practice yoga, it  allows them to better focus and concentrate with school. It helps with their self-esteem."
Give family yoga a try!
Photo Credit: Khosrow Shotorbani, We Are Yoga Studio in Salt Lake City, Utah